Balmar 6-Series Light Duty Dual Foot Marine Alternator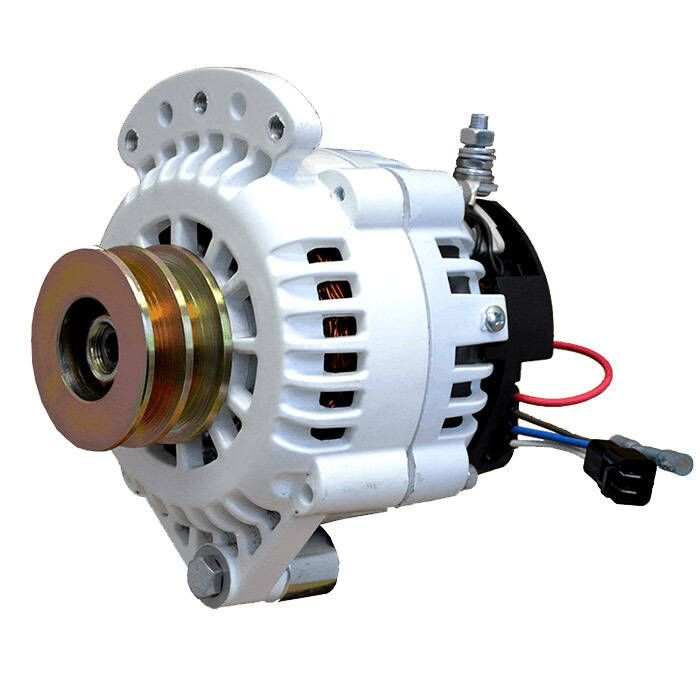 Balmar 6-Series Light Duty Dual Foot Marine Alternator
Item # 861603
Description
Balmar 70A, 6-Series Light Duty Alternators are designed for recreational marine applications and are engineered to replace most OEM alternators on a wide variety of marine gasoline and diesel engines. These alternators deliver high-output performance in a compact, small-case package and are available in common mounting configurations.
Features:
Designed for recreational marine applications
Ideal for modest charging upgrades
Generates 70 amps
Dual fan cooling
High airflow frame
Maximum RPM: 12,000
Recommended for use with Balmar multi-stage voltage regulators (Sold with alternators in kits or separately)
Engineered to replace most OEM alternators on a wide variety of marine gasoline and diesel engines
Available in (3) mounting configurations

Saddle Mount: 3.15" (Typical of Yanmar engines)
Single Foot Mount: Convertible to support 1" Motorola and 2" Delco style mounting configurations
J-180 Mount: 4"
Balmar Smart Ready Technology:
Internal Regulation is a feature unique to the 6-Series alternator
Enables the alternator to be used with smart Balmar external regulation, or as a stand-alone, internally regulated alternator system
Fixed, 14.1-volt charge controller is ideal as a built-in back-up regulator for the cruiser, or as a full-time regulator for systems where smart, multi-stage regulation is not required
If battery loads are relatively small and your engine is running frequently, the alternator's internal regulator may be sufficient to support your electrical needs without external regulation
If your vessel utilizes larger deep-cycle battery banks or the engine's duty cycle is less frequent (as is the case in most sailing applications), the 6-Series Alternator combines and works seamlessly with Balmar's ARS-5Vage Regulator or Max Charge Voltage Regulator
USCG Title 33, ISO, SAE and CE Compliant
Pulley Designations:
"SV" = 1/2" Single Pulley
"DV" = 1/2" Dual Vee
"K6" = K-6 Serpentine
"J10" = J-10 AltMount® Serpentine
The selection process includes the following steps:
Step 1: Determine your vessel's electrical load
Step 2: Identify your existing battery bank technology and capacity
Step 3: Select your optimum alternator output
Step 4: Identify the alternator mounting style present on your engine
Step 5: Determine your belt and pulley requirements
Step 6: Select additional charging system options
Notes:
Balmar's 1/2" Deep Vee Pulleys (single and dual) can accept a 3/8" and 7/16" belts
Image is for reference only, actual product may vary
Part Numbers for Balmar 6-Series Light Duty Dual Foot Marine Alternator
Reviews
Rated

5

out of

5
by
Mr.Pete
from
Great alternator.
Just started the motor after 4 years of inactivity and the new alternator works great!
Date published: 2023-06-28