B&G V60 Fixed-Mount VHF Radio with AIS Receiver - NMEA 2000 - 000-14471-001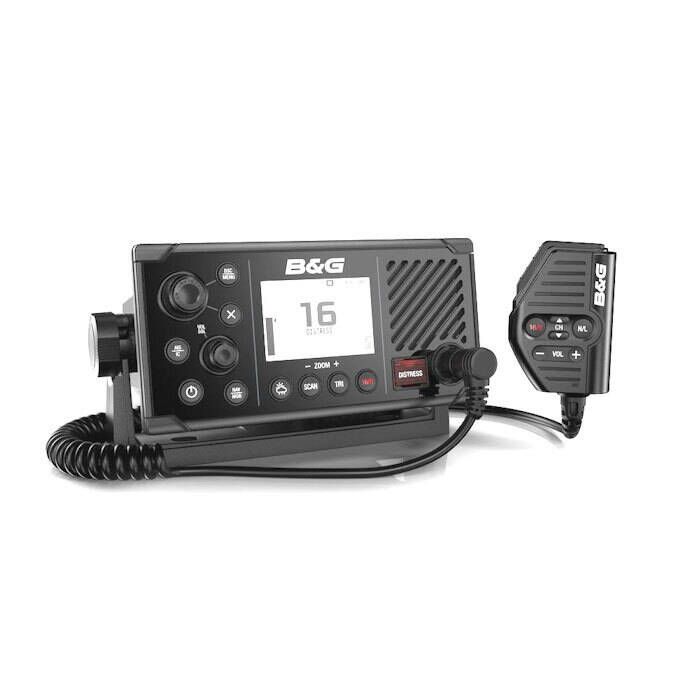 B&G V60 Fixed-Mount VHF Radio with AIS Receiver - NMEA 2000 - 000-14471-001
Item # 861476
Description
B&G's V60 combination VHF radio and AIS Receiver has an integrated GPS receiver, low-profile faceplate and support for up to two wireless H60 handsets to ensure you stay connected, wherever you are on board. It's also an AIS receiver, ensuring you can stay informed about the vessels around you.
Stay safe and connected with this VHF marine radio featuring a sleek design with removable fist mic, Class D DSC functionality, and built-in GPS. Keep track of nearby AIS-equipped vessels with an integrated AIS receiver, and add up to two optional wireless handsets to communicate clearly from anywhere on board.
GPS 4-Ways: With the integrated GPS receiver the V60 now has four ways to ensure you have a GPS fix in the event of an emergency. A GPS antenna in the face of the radio means open air installations dont need another antenna at all An SMA connector on the rear case allows for connection to a GPS-500 antenna NMEA 0183 allows you to get GPS from a chartplotter NMEA 2000 means you dont need another antenna if you already have one in your network
Built in AIS A dual-channel AIS receiver monitors the position of nearby AIS-equipped vessels, helping you to avoid collisions in crowded harbors and waterways. AIS information can be viewed on the V60s built-in screen, or overlaid on your chart or radar screen through a compatible multifunction display.
Wireless Handset Add up to two optional wireless handsets to take your radio anywhere on board. The H60 handset was designed as an intuitive portable companion to the V60. Each handset duplicates your radios display and controls, enabling remote access to all key functions. Having multiple stations also allows the RS40 to double as a handy on-board intercom.
Remote Mountable Fist Mic The V60s removable fist mic can be connected to the front or rear of the radio, and optional extension cable allows the radio and mic to be mounted separately. This offers a simple and cost-effective solution for any mounting location, with no cable clutter. For example, the V60 can be mounted overhead, with no hanging cables, while the mic is connected to an extension socket on the dash below.
Mount From The Front V60 features easily removable top and bottom bezels which reveal mounting holes allowing the same style of mounting from the front that is featured on B&G MFDs.
Track Buddy Track buddy is a feature that automatically requests the position of another VHF radio. Simply enter the MMSI of the VHF into your contact list, then start tracking! Track up to 5 buddies Polls your contacts for their Lat/Long position automatically Can be set to 1, 5, 15, 30 or 60 minute intervals Displays the position on a compatible chart plotter Great for keeping track of friends, family or vessels you need to know the position of that dont have AIS
Navigation Mode Press the NAV button on the V60 to turn it into a navigational instrument displaying your Speed and Course. V60 also contains a Man Overboard (MOB) function, hold down the NAV/MOB button to drop a waypoint on your current location and the V60 will enter MOB mode to show you how far away you are and where you need to steer to get back to the position of the MOB event. The MOB waypoint is also transmitted over NMEA 2000 to the rest of your network
Features:
Class D DSC approved VHF radio
Dual channel AIS receiver
Integrated GPS receiver
Removable fist mic supports front or rear connection
Connect up to two wireless handsets
Add an optional loudhailer or external speaker
NMEA 0183® and NMEA 2000® connectivity
General
Frequency Range: Transmit 156.025~157.425 MHz
Frequency Range: Receive 156.050~163.275 MHz
Channels: INT / US / CAN / EU
Oscillate Mode: PLL
Modulation:
Channel Spacing: 25KHz
Frequency Stability: ±5 PPM
Temperature range: -15° C to +55° C (5° F to 131° F)
Normal Working Voltage: +13.6 V DC
Minimum operating Voltage: 10 V DC
Low battery detect Voltage: 10.5 ± 0.5 V DC
Digital Selectivity Calling (DSC): Class D
AIS Max Targets: 150
Temperature range: -15 to +55° C (+5 to +131° F)
Waterproof: IPX7
Power
Normal Working Voltage: +13.6 V DC
Minimum operating Voltage: 10 V DC
Low battery detect Voltage: 10.5 ± 0.5 V DC
Over Voltage Protection: >15.8 ± 0.5 V DC
Hailer Audio Power Out: 30 W
Current Drain RX Max Audio Power: <1.5 A
Current Drain Stand-By RX: <0.45 A
Current Drain At 12V DC: Hi Power TX <6 A
Current Drain At 12V DC: Lo Power TX <1.5 A
Receiver
Intermediate Frequency: 1st 38.85/21.7 MHz
Intermediate Frequency: 2nd 450 KHz
Sensitivity : 12dB SINAD: -6 dBuV(EMF)
Squelch Sensitivity (at tight): 6 dBuV(EMF)
Spurious Response Rejection Ratio: 70 dB
Adjacent Channel Selectivity: 70 dB
Intermodulation Response: 68 dB
S/N at 3 KHz Dev.: 40 dB
Audio Output Power At THD: 10% =2.5 W
Audio Distortion: 10 %
Audio Response: +1 to -3dB of 6dB/octave from 300hz to 3kHz dB
Current Drain: Max Audio Power: 1.5 A
Current Drain: Stand-By: 0.5 A
2ND RX Sensitivity For 12dB SINAD: 0 dBuV(EMF)
2ND RX bit error [email protected] dBm: 10-2
Transmitter
Frequency error: ±1.5KHz RF
Power:

Hi: 23W ± 2W
Lo 0.8W ± 0.2W

Maximum Deviation: ± 5 KHz S/N at 3KHz Dev. 40 dB
Modulation Distortion:: ±3KHz =10 %
Audio Response at 1KHz Dev: +1 to -3dB of 6dB/octave from 300hz to 3KHz
Spurious/Harmonic Emissions: Hi/LO = 0.25uW
Modulation Sensitivity: 15 mV
Current Drain At 12V DC:

Hi Power =6 A
Lo Power =1.5 A

DSC TX deviation at 1.3K: 2.6±0.26 KHz
DSC TX deviation at 2.1K: 4.2±0.42KHz
ATIS TX deviation at 1.3: KHz 1.3±0.13 KHz
ATIS TX deviation at 2.1: KHz 2.1±0.21 KHz
In the Box:
V60 VHF radio base station and AIS Receiver 000-14471-001
Removable hand mic 000-14922-001
Bracket for gimbal mounting 000-14917-001
Gasket for recessed mounting 000-14915-001
Sun cover 000-14913-001
Knobs for bracket 000-14917-001
Bezel trim 000-14915-001
8A (3AG) spare fuse
Bulkhead mount for hand mic 000-14919-001
2 pcs 3.5 x 20 mm, stainless steel, panhead Phillips 000-14919-001
8 pcs 4 x 25 mm, stainless steel, panhead Phillips 000-14917-001
Documents: User manual, warranty card, mounting template
Note: Requires a VHF antenna (sold separately). An external GPS antenna may be required in some installations. All DSC functions require an MMSI number issued by local authorities; charges may apply.
Part Numbers for B&G V60 Fixed-Mount VHF Radio with AIS Receiver - NMEA 2000 - 000-14471-001