B&G V20S Fixed Mount VHF Radio with NMEA2000 - 000-14492-001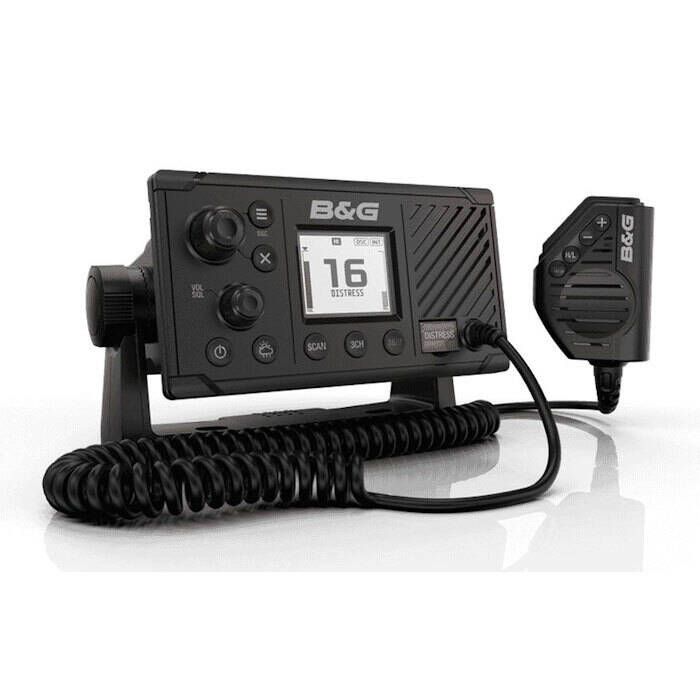 B&G V20S Fixed Mount VHF Radio with NMEA2000 - 000-14492-001
Item # 861475
Description
An Easy to Use Radio for Any Vessel : See clearly in bright daylight with a high contrast black-on-white display, and inverted white-on-black night mode. A rotary dial makes channel selection easy, while large buttons provide quick access to other key functions. Dedicated Channel 16 keys, found on both the radio and its fist microphone, offer instant access to the emergency channel. An included gimbal bracket enables simple table-top, overhead, or bulkhead installation. Flush-mount installation is also possible, with an easy mount-from-front solution, to match the low-profile style of our glass bridge displays and accessories. If the radio is configured for USA market, two priority channels are watched: Channel 9 and Channel 16.
Class D DSC Approved: DSC, or "Digital Selective Calling", makes it easier to stay in touch with other boaters and enables you to broadcast your boats location during an emergency. If you find yourself in trouble, the V20S dedicated "distress" button will initiate a DSC distress call that sends your boats position to anyone within VHF range. Used together with a traditional radio distress call, this makes it easier for other boaters with DSC-capable radios to register your situation and come to your aid. An integrated GPS receiver means your position can be sent even if your boats other electronics are powered down.
Easy Access to All International Channels: The V20S is designed for global use and supports all international channels. With tri-channel watch, easily scan between the current channel, emergency channel 16, and another user-configurable priority channel (in the USA, scan between the current channel, emergency channel 16, and calling channel 9). Alternatively, scan through all available channels or just your selected favorites. Emergency channels can be given priority when scanning to reduce the chance of missing distress calls or other urgent safety messages.
Features:
High-visibility display with inverted night mode
Intuitive rotary dial and keypad controls
Four-button fist microphone
Class D DSC approved
Integrated GPS receiver
NMEA 2000® connectivity
Dedicated emergency channel key
Tri-channel watch function
All international channels
Two Mounting Options:

Bracket mount: Using the supplied gimballing bracket the radio can be mounted to either sit on top of, or hang underneath any flat horizontal surface. The radio can be removed for storage and the viewing angle can be adjusted
Flush mount: The radio is recessed into a cavity, showing only the face of the radio. The radio fixture is permanent and the viewing angle cannot be adjusted
General
Frequency Range: Transmit: 156.025~157.425 MHz
Frequency Range: Receive: 156.050~163.275 MHz
Channels: US / INT
Oscillate Mode: PLL
Modulation
Channel Spacing: 25KHz
Frequency Stability: ±5 PPM
Temperature range: -15° C to +55° C (5° F to 131° F)
Normal Working Voltage: +13.6 V DC
Minimum operating Voltage: 10 V DC
Low battery detect Voltage: 10.5 ± 0.5 V DC
Digital Selectivity Calling (DSC): Class D
Receiver
Intermediate Frequency: 1st 38.85/21.7 MHz
Intermediate Frequency: 2nd 450 KHz
Sensitivity: 12dB SINAD =-6 dBuV(EMF)
Squelch Sensitivity (at tight): 6 dBuV(EMF)
Spurious Response Rejection Ratio: 70 dB
Adjacent Channel Selectivity: 70 dB
Intermodulation Response: 68 dB
S/N at 3KHz Dev: 40 dB
Audio Output Power At THD 10%: 2.5 W
Audio Distortion: 10 %
Audio Response: +1 to -3dB of 6dB/octave from 300hz to 3kHz dB
Current Drain: Max Audio Power =1.5 A
Current Drain: Stand-By = 0.5 A
2ND RX Sensitivity For 12dB SINAD: 0 dBuV(EMF)
2ND RX bit error [email protected]: 10-2
Transmitter
Frequency error: ±1.5KHz RF
Power

Hi: 23W ± 2W
Lo: 0.8W ± 0.2W

Maximum Deviation: ± 5 KHz S/N at 3KHz Dev. =40 dB
Modulation Distortion: ±3KHz =10 %
Audio Response at 1KHz Dev: +1 to -3dB of 6dB/octave from 300hz to 3KHz
Spurious/Harmonic Emissions: Hi/LO = 0.25uW
Modulation Sensitivity: 15 mV
Current Drain At 12V DC

Hi Power: 6A
Lo Power: 1.5A

DSC TX deviation at 1.3K: 2.6 ±0.26 KHz
DSC TX deviation at 2.1K: 4.2 ±0.42KHz
ATIS TX deviation at 1.3 KHz: 1.3: ±0.13 KHz
ATIS TX deviation at 2.1 KHz: 2.1: ±0.21 KHz
In the Box:
B&G V20S VHF Radio with hand mic
Bracket for gimbal mounting
Gasket for recessed mounting
Sun cover
Documents: Users manual, warranty card, mounting template
Knobs for bracket
Bezel trim
8 Amp (3 AG) spare fuse
Mic Clip for RS20 and V20
6 x 3.5 x 20 mm, stainless steel, panhead phillips
4 x 4 x 25 mm, stainless steel, panhead phillips
Part Numbers for B&G V20S Fixed Mount VHF Radio with NMEA2000 - 000-14492-001