B&G Triton2 S/D/W Wireless Wind Package - Includes 2 Displays - 000-15613-002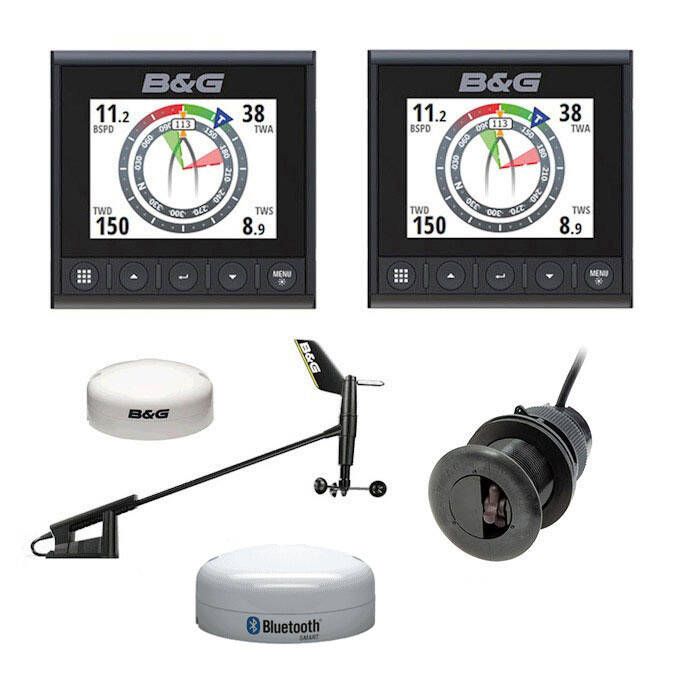 B&G Triton2 S/D/W Wireless Wind Package - Includes 2 Displays - 000-15613-002
Item # 861472
Description
Sail smarter with the Triton² S/D/W Wireless Wind Package. Perfect for cruisers and club racers, the Triton² shows you the instrument data you need, where you need it, with a DST810 Smart™ multi-sensor transducer for speed and depth data and a WS320 wireless wind sensor for easy-to-install wind data.
Triton² Digital Display Features:
Triton² Digital Display Speed/Depth/Wind Pack Display with DST810 Transducer and 310 Wind Sensor is the clearest, multi-purpose sailing instrument with dedicated sailing features including SailSteer and WindPlot
Display wind, speed, depth, heading, autopilot status and much more
Includes DST810 active D/S/T TH plastic 235 kHz transducer
Includes WS310 Wind Sensor with Cable
The (2) full-Color Triton² Displays provide sailors with a clear visual representation of key instrument data including Speed, Depth, Wind, Heading, AIS targets, GPS data and more

Optically bonded 4.1" Color display
Transflective LCD technology for optimum sunlight viewing
An Optically Bonded display means absolutely zero condensation or fogging, while transflective LCD technology provides exceptional contrast and visibility day or night while consuming less power than traditional backlight-only displays

The flexible, NMEA 2000® certified, Triton² Display can be integrated into a wider navigation system and also be combined with a Triton

2

Pilot keypad and NAC autopilot computer to create a complete autopilot control system, featuring B&G sail-specific autopilot steering algorithms
Easy to use, easy to install
Low power consumption
ZG100 External GPS Antenna Features:
Compact and integrated position/heading antenna
Provides magnetic heading for accurate boat direction at any speed and for radar/chart overlay
NMEA 2000 antenna module enables flexible boat location for ideal positioning and best performance
Precision position receiver and heading sensor in a rugged, NMEA-2000 compatible external antenna module
High speed 10Hz GPS/GLONASS position and heading update rates for smooth, accurate location and the most up-to-date information
Improved time to first fix, position accuracy and reliability and with combination of GPS and GLONASS satellite signals
Integrated electronic compass provides chart stabilization, accurate course over ground at low speed, and radar overlay on chart

Please note this product is not suitable for use with MARPA or autopilot systems, this requires a rate compass such as Gimballed Rate Compass (BGH330001)

NMEA 2000 compatible: micro-C connector with 4 pigtail cable, pole mount
Positioning: supports GPS and GLONASS (Galileo-ready with future software update) and WAAS/EGNOS/MSAS differential correction
ZG100 is compatible with combos and chartplotters in the following Series:

All Zeus, Including Zeus Touch
WS320 Wireless Wind Sensor Feature:
High accuracy for the best instrument and autopilot performance

Angle accuracy < 1 degree
Speed accuracy <0.2kt or 5%

High performance aerodynamic design is the result of more than 500 individual wind tunnel tests
Wide compatibility direct NMEA 0183 output or connect via interface to a NMEA 2000® network
DST810 Smart™ Multi-Sensor Transducer Features:
5 Hz speed output for visibly smoother speed-through-water reporting and data for better decision making
Integrated attitude sensor for heel and trim, benefits sailing and power boats
Wireless connectivity to Airmar's CAST App, with new user-friendly benefits

Calibrate the DST810 in a simple, intuitive way regardless of the instrument brand or model that is on board
Conduct basic and advanced heel-compensated speed calibrations for improved speed-through-water outputs across the speed range
Advanced Speed Calibration allows for manual speed entries for multiple heel angles and up to 10 speeds, formerly only possible through expensive PC software
Triton2 Digital Display Specifications:
Dimensions: 4.6 W x 4.5 H x 1.4" D (118 x 115 x 36 mm)
Color: Black
Display Size: 4.1" (diagonal). 4:3 Aspect ratio
Display Type: Transflective TFT-LCD, bonded. White LED backlight
Display Resolution: 320 x 240 pixels
Illumination: White for day mode. Red, green, blue or white for night mode
Power Consumption: 1.0W (Min), 1.9W (Max)
Network Load: 4 LEN
Waterproof: IPX7
Humidity: up to 95% RH
Compass Safe Distance: 300 mm (1.0")
Operating Temperature -25 to +65° C (-13° F to +149° F)
Storage Temperature -40 to +85° C (-40 to +185° F)
ZG100 External GPS Antenna Specifications:
Power Supply (Supply Voltage) 9V DC - 18V DC
Reverse Polarity Protection: Yes
GPS Position Accuracy [m]: 5
GPS Receiver Channels 32
Rate of Turn: 3 degrees
Satellite Reacquisition: 5 sec
Time To First Fix from cold [s]: 50
Dimensions: 90 mm x 133 mm
WS320 Wireless Wind Sensor Specifications:
Weight: 0.33 kg (0.7 lbs)
Waterproof: IPx6 & IPx7
Operating temperature: -25° C to 65° C
Wind speed resolution: 0.05 m/sec (0.1 Knots)
Wind speed accuracy: +/- 0.1 m/sec (0.2 kt) from 1 - 40 m/sec (2 - 80 kt)
Wind speed range: 0.25 - 50 m/sec (0.5 - 97 knots)
Wind angle resolution: 0.1°
Wind angle accuracy: +/- 0.5°
Data output: Apparent Wind speed and angle at 5Hz
WS320 (wired) Interface: Connectivity

NMEA 0183 Sentences supported: MWV, R
NMEA 0183 1 x Rx NMEA 0183, Baud Rate 38400
NMEA 2000 1 x Micro-C port, 1 LEN
Electrical: 12V DC
MFD: Compass Safe Distance-Metric, Imperial (300 mm) 12"
DST810 Smart™ Multi-Sensor Specifications:
Weight: 0.9 kg (2.0 lbs) Plastic
Acoustic window: Urethane
Hull deadrise: Up to 22°
Data update rate:

Depth: 1X/second
Speed: 5X/second
Heel/Trim: 10X/second

Attitude accuracy: +/ -1° nominal after sensor calibration
Depth frequency: 235 kHz
Minimum depth range: 0.5 m (1.6')
Maximum depth range: Up to 100 m (330') - NMEA 2000®
Speed range: Up to 45 knots
Pressure rating: 3 m (10')
Pulse rating: 20,000 p/nm (5.6 Hz per knot) p/nm (pulses per nautical mile)
Supply voltage: 9V DC to 16V DC - per NMEA 2000®
Supply current: <200 mA - per NMEA 2000®
Wireless Protocol: Bluetooth Low Energy (BLE)
Wireless Range: Up to 30' depending on mount location
Standard Cable Length: 6 m (20') DeviceNet - NMEA 2000®
Temperature Sensor Accuracy: +/- 0.5°C (+/- 1.8°F)
Temperature Sensor Range: -10°C to 40°C (14°F to 104°F)
NMEA 2000 Load Equivalency Number (LEN): 3
CE Regulation: Complies to IERC60945
Part Numbers for B&G Triton2 S/D/W Wireless Wind Package - Includes 2 Displays - 000-15613-002