Awlgrip Awlwood Brushing Reducer - T0201/1QTUS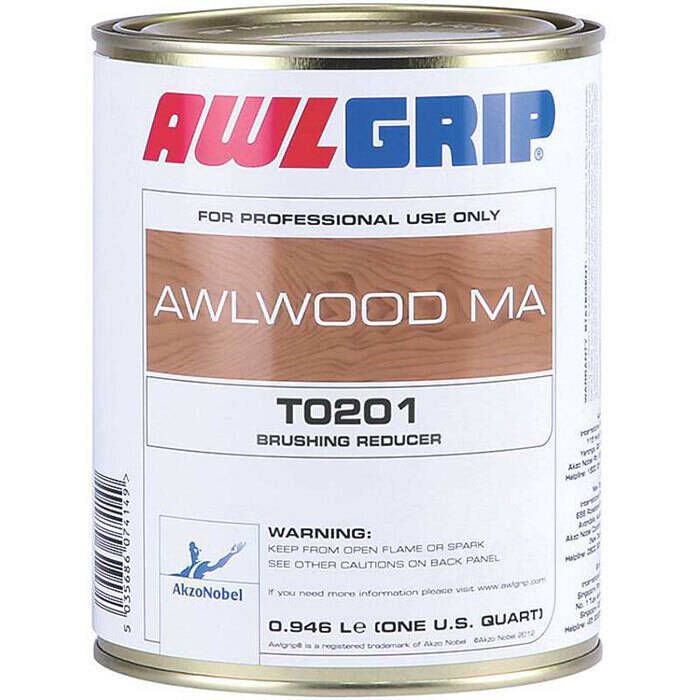 Awlgrip Awlwood Brushing Reducer - T0201/1QTUS
Item # 861435
Description
Awlwood Brushing Reducer (T0201) - quart is a slow evaporating thinner formulated to assist in extending the wet edge of the Awlwood products in hot or windy conditions. It can be added up to 10% by volume if necessary and once opened, it has a 3 month shelf life.
Features:
Slow evaporating thinner
Helps extend the wet edge of the Awlwood products in hot or windy conditions
Add Brushing Reducer up to 10% by volume if necessary
Always ensure product is mixed well before use
When brushing the final coat, it is best to wait for light winds and overcast conditions, or very early on a still morning to ensure the best possible finish
Maximum shelf life of 3 months once opened
Cleaning:

Rinsing OT0200 Brush Cleaner from brushes prior to use with Awlwood products
Rinsing brushes that have become stiff with partially cured Awlwood
Also use as a surface cleaner between coats if contamination problems occur
Flushing solvent: Work into brushes that have been washed with T0200 Brush Cleaner to flush, and then shake out well If brushes have stiffened part-way through a job, work into bristles and shake out before continuing
Repeat if necessary

Contamination:

If surface contamination is suspected, sand well between fully cured coats and wash, applying T0201 Brushing Reducer with a rag
Scrub, then remove this material with clean rags
Note: This multi-component system is intended for experienced painters. Please read mixing and application instructions thoroughly prior to starting project to ensure best results.
WARNING
---
This product can expose you to chemicals which are known to the State of California to cause cancer, birth defects or other reproductive harm.
For more information go to www.p65warnings.ca.gov.
Part Numbers for Awlgrip Awlwood Brushing Reducer - T0201/1QTUS