Awlgrip Awlprep Surface Cleaner - T0008G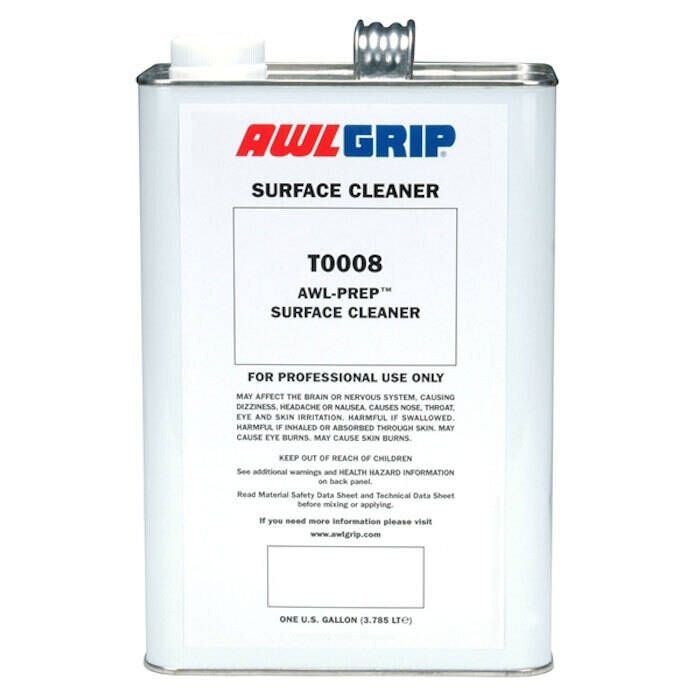 Awlgrip Awlprep Surface Cleaner - T0008G
Item # 861395
Description
Awlgrip T0008 Awlprep Surface Cleaner for Finish Primers and Topcoats is a mild surface cleaner and degreaser that will remove hand oils, light grease and other light surface contaminants.
Features:
A mild surface cleaner and degreaser that will remove hand oils, light grease and other light surface contaminants
Applications: Wipe down final primed or top coated surfaces before and after sanding
It has a "drying" effect which removes latent moisture from the surface, which can cause a gloss finish to come out flat
Non-photochemically reactive
Specifications:
Type: Awl-Prep T0008 is a surface cleaner for finish primers and topcoats
VOC: 809 g/lt or 6.8 lbs. / gal
Packaging: Available in 1 quart and 1 gallon containers
Size: Gallon
Application Equipment:
Clean, oil free, dry cotton cloths or pre-packaged surface cleaning lint free towels designed for solvent wiping
Surface Preparation:
A clean, dry surface is essential to the success of any coatings application.
Remember to clean before sanding.
Sanding often melts greases and oils into the surface, making it difficult to obtain a clean surface.
Application:
Two Cloth Cleaning Method. Surface should be clean of all dust. Use a vacuum to remove dust or use clean dry compressed air to blow while wiping with clean, oil free, dry cotton cloths. A majority of dust and dirt should be removed before wiping down with an Awl-prep wipe down solvent. Soak one cloth in the Awl-Prep solvent. Wet the surface with this cloth. Use a dry second cloth to wipe the surface dry and lift the contamination off the surface. Work in small areas (4 sq. m or less) to keep the surface cleaner from drying before the second rag wipes the surface clean and dry. Repeat until surface is residue free.
Note: Care should be used when wiping primed or painted surfaces which are not fully cured. Awl-Prep wipe down products can attack an epoxy or urethane coating as well as some polyester fillers which are not yet fully cured. Usually an epoxy or urethane surface which be sanded is cured enough to be wiped down with Awl-prep surface cleaning solvents, but not de-waxing or degreasing solvents. Polyester fillers are often sensitive to the types of solvents in the AWL-PREP product line. Always check a small area before beginning the two cloth method on a primed or top coated surface.
Note: Wiping with one wet cloth only smears contamination around. Be sure cloth used is clean. Surface must be dry before using tack rags.
WARNING
---
This product can expose you to chemicals which are known to the State of California to cause cancer, birth defects or other reproductive harm.
For more information go to www.p65warnings.ca.gov.
Part Numbers for Awlgrip Awlprep Surface Cleaner - T0008G