Awlgrip 545 Epoxy Primer Converter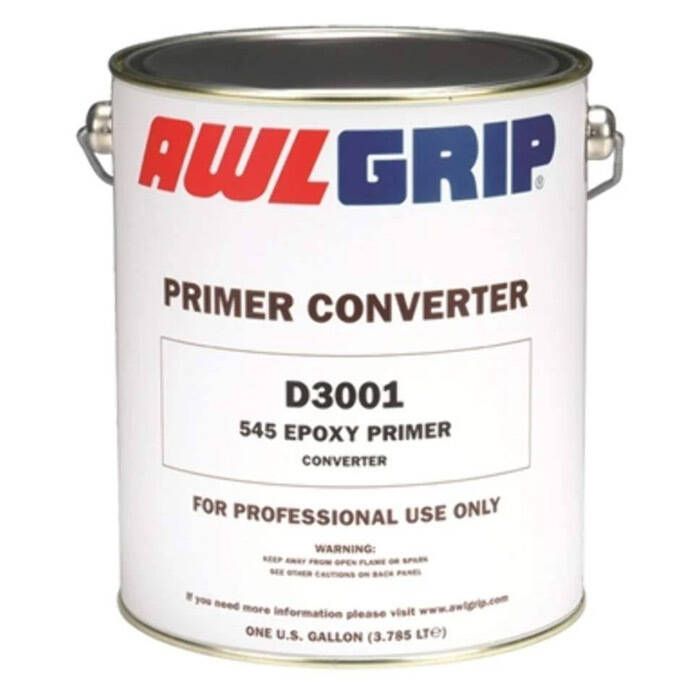 Awlgrip 545 Epoxy Primer Converter
Item # 923131
Description
Awlgrip Converter for the 545 Epoxy 2 Part Primer System is one part of a two part system, (D3001), used with gray or white Primer Base. This is the catalyst that is mixed with the base before applying Awlgrip or Awlcraft 2000 topcoats on aluminum, steel, fiberglass, or wood substrates. It may be used above or below the waterline.
Features:
Catalyst for Awlgrip 545 Epoxy Primer system
May be applied by spray, brush, or roller
May be used above or below the waterline
Surface Preparation:
Aluminum: Sandblast or grind to 100% clean silver color or treat with Alumiprep 33 or Alodine 1201
Steel: Sandblast/grind SSPC-SP5-85 or Sa 2 1/2
Gelcoat/Fiberglass: Sand with 100-150 grit paper
Wood: Smooth sand with 80-100 grit paper.
Specifications:
Type: Catalyst for epoxy polyamide base
Theoretical Coverage (Sq. Feet/Gallon)

298 sq. ft. at one mil dry
198-496 sq. ft. at recommended dry film thickness
Calculated for mixed base and converter reduced 50%

Coverage calculations are based on theoretical transfer efficiency of 100%
Actual coverage rate obtained will vary according to equipment choice, application techniques, part size, and environment
Recommended Wet Film Thickness: 7-10 mils (175-250 microns)
Recommended Dry Film Thickness: 2-3 mils (50-75 microns)
Application Methods: Sprayer, roller, or brush
Number of Coats: 3
Recoating Times:

At 77° F / 50% R.H., minimum 2-4 hours
Maximum window without sanding: 24 hours

Sanding before overcoating with other products is recommended
May be overcoated with AWLGRIP/AWLCRAFT 2000 Topcoats, 545 Epoxy Primer, High Build Epoxy Primer, AWL-QUIK Sanding Surfacer, and ULTRA-BUILD Epoxy Primer
VOC: White Base - 435 g/lt or 3.6 lbs./gal. Converter 616 g/lt or 5.1 lbs./gal
Mixing and Reduction
Spray: Mix by volume one part 545 base with one part D3001 to a smooth homogenous mixture. Reduce up to 25% with T0003. Overall mix is 1:1 1/2 by volume. Example: 8 oz. 545 base, 8 oz. D3001, 4 oz. T0006.
Warning: Do not apply paint materials to surfaces less than 3° C or 5° F above dew point or to surfaces warmer than 41° C or 105° F. Ambient temp should be a minimum 13° C / 55° F and max 41° C or 105° F.
Note: This multi-component system is intended for experienced painters. Please read mixing and application instructions thoroughly prior to starting project to ensure best results.
WARNING
---
This product can expose you to chemicals which are known to the State of California to cause cancer, birth defects or other reproductive harm.
For more information go to www.p65warnings.ca.gov.
Part Numbers for Awlgrip 545 Epoxy Primer Converter