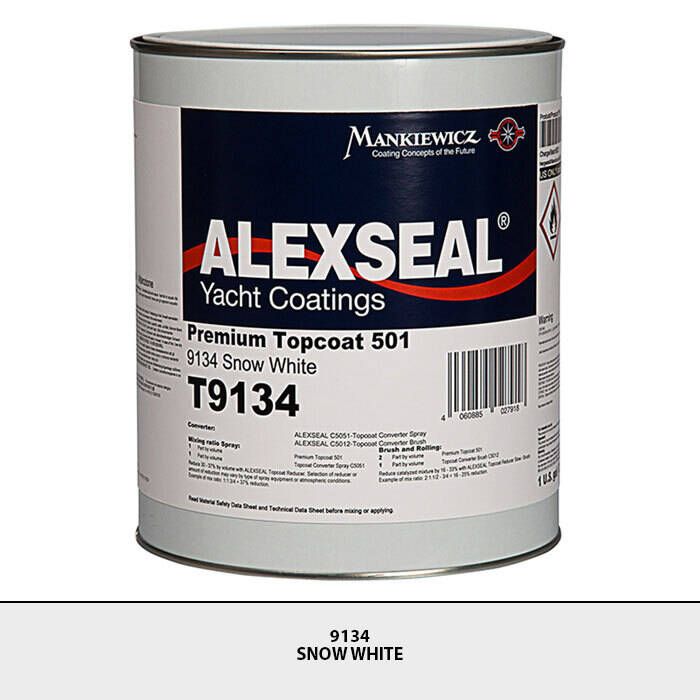 Alexseal Premium Topcoat 501
Item # 859984
Description
Alexseal's Premium Topcoat 501 utilizes the latest advances in polyurethane technology and state-of-the-art UV absorbers to achieve a durable surface with superior distinction of image and optimum gloss.
Features:
Polyurethane based formula with aliphatic resins added to provide many properties of an acrylic finish
Ensures a reduction of cleaning and maintenance, while at the same time preserving the yacht's appearance and value
For use on the interior and exterior, and in areas not subject to permanent water immersion
Provides better hiding power to reduce the number of coats required for full coverage
Premium UV resistors for unmatched gloss and color retention
High gloss wet look which provides superior distinction of image
Note: Other colors available by special order - please inquire
Specifications:
Application: Interior and exterior, in areas not subjected to permanent water immersion
Spray Mixing Ratio: 1:1:3/4 (35%)
Brush Mixing Ratio: 2:1:1/2 up to 1 (33%) 1% A5018 to ready mixed paint
Base: T-Series
Spray Converter Number: C5051
Brush Converter Number: C5012
Accelerator: A5035 or A5018 (Roll additive)
Spray Reducer: R5070 - F, R5050 - M, R5030 - S
Brush Reducer: R5015 - B
Theoretical coverage (Brushing and Rolling): 6 m 2/liter / 22.7 m 2/gallon / 244 sq. ft./gallon
Practical coverage:

Conventional air spray equipment: 3.6 m

2

/liter / 13.6 m

2

/gallon / 146 sq. ft./gallon
HVLP air spray equipment: 4.5 m

2

/liter / 17 m

2

/gallon / 183 sq. ft./gallon

Number of coats: 2-3
DF Drying Time at 77°: 45 minutes
TD Drying Time at 77°: 18 hours
FC Drying Time at 77°: 14 days
Minimum recoat time at 77° (by itself): 45 minutes
Minimum recoat time at 77° (other product): 18 hours
Maximum recoat time at 77°:

With itself 16 hrs.
With another product sanding needed
Application:
Substrate pre-treatment: The substrate must be clean, dry and free from dust, grease, oil, and other contamination. To achieve optimum performance and adhesion ALEXSEAL Finish Primer 442 is recommended. Final sanding of ALEXSEAL Finish Primer 442 should be smooth sanded with 280 - 400 grit sand paper. ALEXSEAL Topcoat should be applied within 4 days, 2 days if outside after sanding to ensure adhesion. For inside applications talk about extended times with your sales rep.
Application by spraying: Apply per coat a wet film thickness (WFT) of 50 - 75 microns (2 - 3 mils). Allow 20 - 60 minutes tack up between coats.
Application by brush/rolling: Apply 2 to 3 coats to a wet film thickness (WFT) of 50 - 75 microns (2 - 3 mils) per coat. Each coat should dry to a tape dry stage, 12 - 24 hrs. Sand with 320 - 400 between coats.
Application by rolling only: A5018 Roll Additive is used to reduce the need to tip off with a brush when roller applying the Topcoat 501.
Alexseal® Premium Topcoat 501 Technical Data Sheet
Part Numbers for Alexseal Premium Topcoat 501