Airmar UST850 Thru-Hull Ultrasonic Smart Multisensor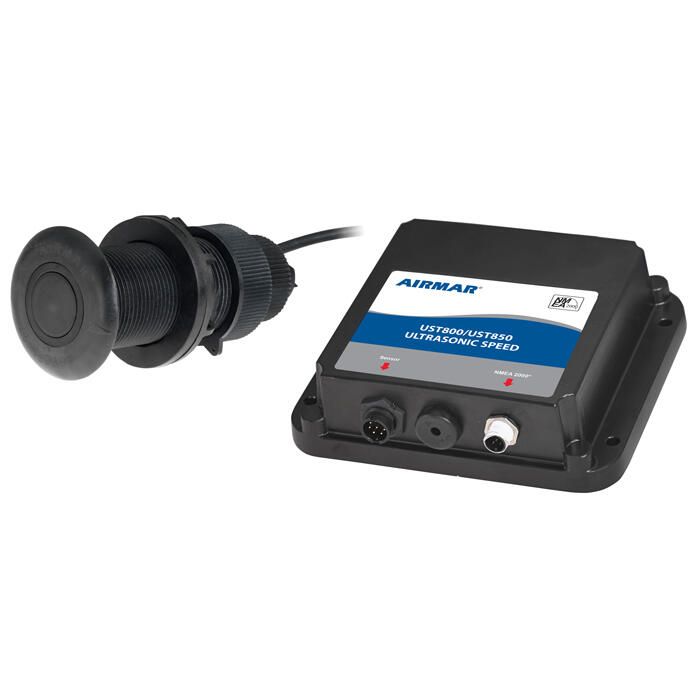 Airmar UST850 Thru-Hull Ultrasonic Smart Multisensor
Item # 932681
Description
Airmar's UST850 Smart Multisensor is a high-precision ultrasonic speed and temperature solution for power and sail boats of all types and sizes. This thru-hull sensor contains no moving parts, instead it uses Airmar's Smart™ technology to deliver finished data, ready for any navigational application.
Features:
Ultrasonic speed and fast-response water-temperature sensor
Provides precise readings at high speeds - ideal for powerboats, cruising, and sailing
Advanced filtering and sampling rates for increased accuracy at all speeds
Keeps speed accuracy consistent by adapting automatically to boat speed, water depth and water clarity
Utilizes two ultrasonic transducers, to measure the time it takes for particles in the water to travel between them
Thru-hull, low-profile housing with water valve
No paddlewheel to clean or maintain - no moving parts to break or wear out
Retractable insert for safe storage
Retrofits to existing Airmar's P17 or B17 housings
Includes Ultrasonic processor and blanking plug
Specifications:
Correlation speed sensor transmitting frequency: 4.5 MHz
Speed range: 0.1 to 50 knots (57 MPH)
Output: NMEA 2000 - speed and temperature
Update rate: Up to 10 times/s
Operating temperature range: 14° F to 104° F
Water temperature accuracy: ±1.8° F
Power rating: 100W
Supply voltage: 9-16 Volts DC
Supply current: 80-200 mA: average 125 mA @ 12 Volts DC
NMEA 2000 Load Equivalency Number (LEN): 7
Sensor material: Plastic insert
Sensor cable length: 6 m (20')
Certifications and standards: CE, IEC60945
Hole diameter: 51 mm or 2"
Part Numbers for Airmar UST850 Thru-Hull Ultrasonic Smart Multisensor