Airmar DST810 Smart Multisensor
$327.73 - $496.75
$311.33 - $471.90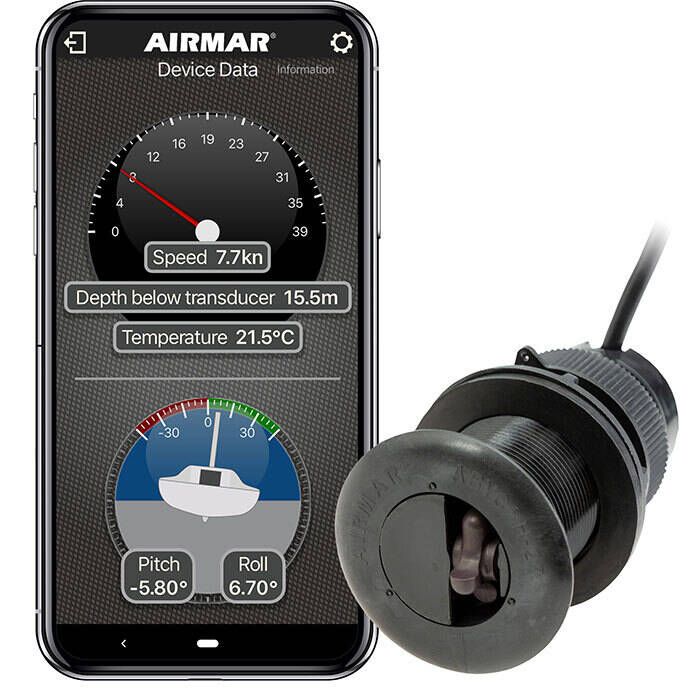 Airmar DST810 Smart Multisensor
Item # 859952
Description
The DST810 Smart Multisensor, together with Airmar's CAST™ App, is the convergence of advanced hull data, matched with a simple and reliable way to calibrate accurate speed via a wireless device.
Features:
5 Hz speed output (5X per second) for visibly smoother speed-through-water reporting and faster data for better decision making
Integrated attitude sensor for heel and trim benefits sailing and power boats
Simple attitude calibration to correct for off-center mounting
Wireless connectivity to Airmar's CAST App has new user-friendly benefits:

Calibrate the DST810 in a simple, intuitive way regardless of the instrument brand or model that is on board
Conduct basic and advanced heel-compensated speed calibrations for improved speed-through-water outputs across the speed range
Advanced Speed Calibration allows for manual speed entries for multiple heel angles and up to 10 speeds, formerly only possible through expensive PC software
Enable and disable PGN's and set offset and output rates

The Perfect Sensor for Sailing:

New 5 Hz speed output for visibly smoother speed data
Incredibly easy calibration via Airmar's CAST App. Wirelessly connect, calibrate speed, and configure data
DST810 stores configurations and delivers data to the NMEA 2000® network
Depth, heel-corrected speed-through-water, heel and trim, and water temperature from one installed multisensor

The Perfect Sensor for Powerboats:

5 Hz speed, depth, pitch and roll, and water temperature from one installed instrument
Simple depth offsets and corrected speed-through-water via Airmar's CAST™ App
Popular depth sensor for shallow water performance
Specifications:
Weight:

Plastic: 0.9 kg (2.0 lbs)
Bronze: 1.6 kg (3.5 lbs)
Stainless Steel: 1.9 kg (4.2 lbs)

Acoustic Window: Urethane
Hull Deadrise: Up to 22°
Data Update Rate:

Depth: 1X/ second
Speed: 5X/ second
Heel/Trim: 10X/ second

Attitude Accuracy: +/ -1° nominal after sensor calibration
Depth Frequency: 235 kHz
Minimum Depth Range: 0.5 m (1.6')
Maximum Depth Range: Up to 100 m (330') -- NMEA 2000®
Speed Range: Up to 45 knots
Pressure Rating: 3 m (10')
Pulse Rate: 20,000 p/nm (5.6 Hz per knot) p/nm (pulses per nautical mile)
Supply Voltage: 9 VDC to 16 VDC -- per NMEA 2000
Supply Current: <200 mA -- per NMEA 2000®
Wireless Protocol: Bluetooth Low Energy (BLE)
Wireless Range: Up to 30' depending on mount location
Standard Cable Length: 6 m (20') DeviceNet -- NMEA 2000®
Temperature Sensor Accuracy: ±0.5°C (±1.8°F)
Temperature Sensor Range: -10°C to 40°C (14°F to 104°F)
NMEA 2000 Load Equivalency Number (LEN): 3
CE Regulation: Complies to IERC60945
Note: Smartphone not included.
Airmar DST810 Smart™ Multisensor Product Data Sheet (2.72 MB)
Part Numbers for Airmar DST810 Smart Multisensor