Airhead Mega Slice Towable Tube - AHSSL-42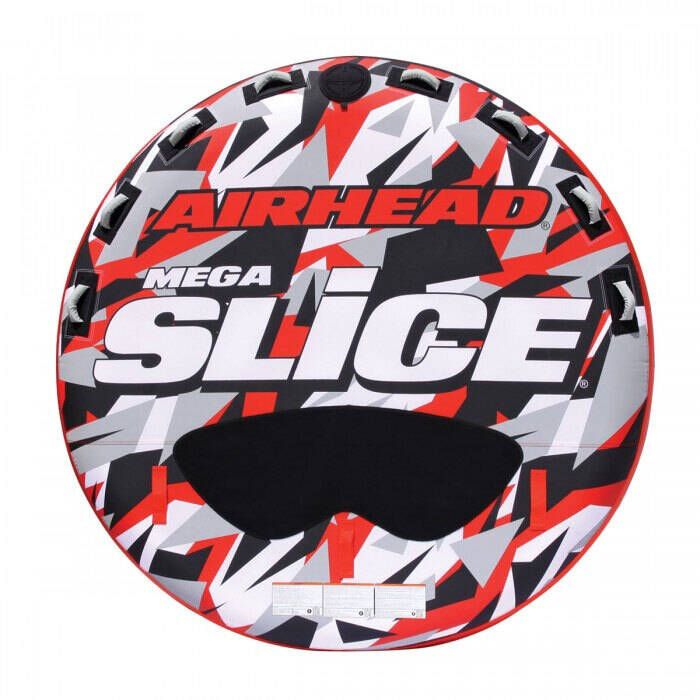 Airhead Mega Slice Towable Tube - AHSSL-42
Item # 859787
Description
Gotta love the Airhead Mega Slice Inflatable Quadruple Rider Towable Tube's cool camo graphics! Mega Slice is one of the top selling 4-rider towables of all time for good reason - it's simply a better deck tube.
Airhead invented the tapered gusset design in 2000; thicker in front, thinner in back. The tapered gusset provides better towing characteristics, a more comfortable riding position and easy mounting from the water. Peak performance is guaranteed with Mega Slice's topside neoprene panel, 8 nylon-wrapped handles and neoprene knuckle guards.
The durable 100" (deflated) 30-gauge virgin PVC bladder is fully encased by a rugged 840 denier double-stitched nylon cover with reinforced internal tow harness. The Mega Slice is equipped with a Speed Safety Valve for fast inflating and deflating. Designed for 1 to 4 riders.
Features:
4 Rider capacity
100-inch diameter (deflated size)
Low-profile deck tube
Tapered construction makes it easy to climb on from the water
Thick front, thinner back prevents "submarining"
Neoprene body pad
Material: Heavy-gauge PVC bladder with RF welded seams
Double-stitched full nylon cover
Deluxe nylon handles with neoprene knuckle guards
Boston Valve for convenient inflating, deflating
Boarding Handles, 4 Rider capacity, 100-inch diameter (deflated size)
Part Numbers for Airhead Mega Slice Towable Tube - AHSSL-42