Adventure Medical Kits Ultralight & Watertight .3 First Aid Kit - 0125-0297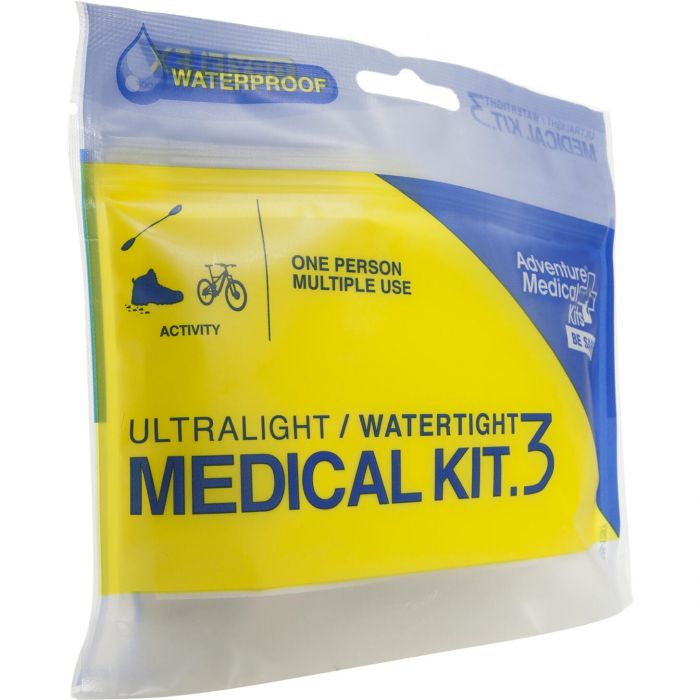 Adventure Medical Kits Ultralight & Watertight .3 First Aid Kit - 0125-0297
Item # 963836
Description
The ultimate ultralight medical kit, the Ultralight/Watertight .3 contains the first aid essentials you need for solo day trips where portable, waterproof gear is a must. This first aid kit keeps you prepared without weighing you down. The proprietary DryFlex™ bag remains watertight even after use, and the entire kit is small enough to fit in the side pocket of your pack. Despite its small size, the kit is filled with preparedness supplies to clean and bandage wounds, treat muscle aches, dress blisters, and treat other common outdoor injuries.
Features:
Proprietary DryFlex™ bag provides the ultimate in durable, waterproof storage
Extremely compact - weighs a mere 2.6 oz
Stop blisters before they start with die-cut moleskin, the most reliable dressing to reduce friction and prevent blisters

Kit includes 14 die-cut pieces, pre-shaped to fit common problem areas

Remove ticks or splinters with the specially designed forceps
Stop the itch of insect bites with After Bite® wipes and treat minor allergic reactions to bites with diphenhydramine
Clean and protect injuries with antibiotic ointment, medical tape, and a variety of bandages
Manage pain and illnesses with medications for inflammation, pain, and common allergies
Specifications:
Size: 6" x 5.25" x 1.25"
Weight: 2.32 oz
Group size: 1 Person
Trip duration: 1 - 2 days
Includes:
Wound care
(2) Butterfly closure fabric adhesive bandage
(3) Easy access bandages®, knuckle fabric
(5) Easy access bandages®, 1" x 3" fabric
(3) Sterile gauze dressing, 2" x 2", pkg./2
(1) Conforming gauze bandage, 2"
(1) Tape, 1/2" x 10 yards
(3) Antiseptic wipe
(2) Triple antibiotic ointment
Medication
(2) After Bite® bite & sting relief wipe
(2) Ibuprofen (200 mg.), pkg./2
(2) Antihistamine (Diphenhydramine 25 mg.)
Blister
(1) Moleskin, pre-cut & shaped (14 pieces)
(2) Alcohol swab
Instruments
(1) Splinter picker/tick remover forceps
(3) Safety pin
WARNING
---
This product can expose you to chemicals which are known to the State of California to cause cancer, birth defects or other reproductive harm.
For more information go to www.p65warnings.ca.gov.
Part Numbers for Adventure Medical Kits Ultralight & Watertight .3 First Aid Kit - 0125-0297