Adventure Medical Kits QuickClot Gauze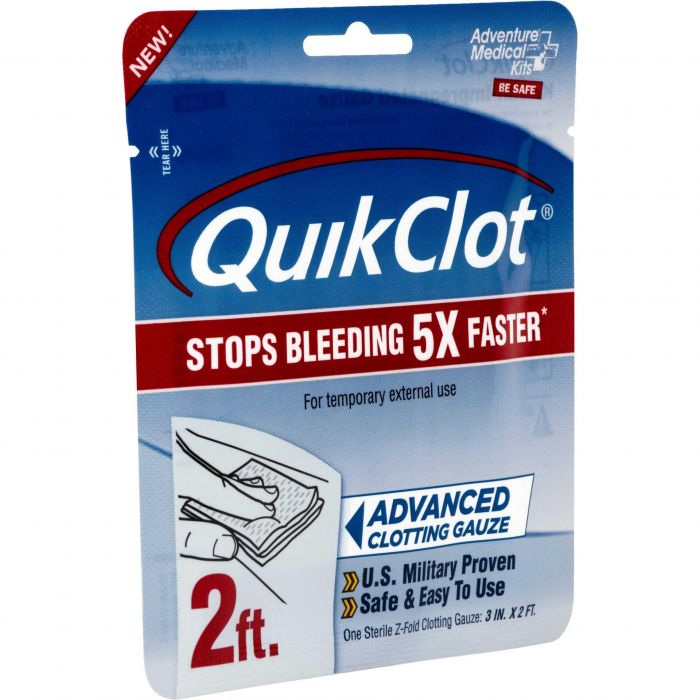 Adventure Medical Kits QuickClot Gauze
Item # 963846
Description
With QuikClot Advanced Clotting Gauze, you have the power to stop bleeding in the palm of your hand. The hemostatic gauze works on contact to stop bleeding by accelerating your body's natural clotting process, clotting blood five times faster. QuikClot Gauze is impregnated with kaolin, a naturally-occurring mineral proven to be effective as a hemostatic agent. Inorganic and inert, kaolin is non-allergenic, making it safe and effective to use. Make QuikClot a part of your trauma pack or first aid kit so you're prepared when emergencies occur.
Features:
Hemostatic gauze acts on contact to stop bleeding five times faster
Gauze impregnated with kaolin, a mineral that accelerates your body's natural clotting process
Inert, non-allergen Kaolin mineral demonstrated to be an effective clotting agent that contains no botanicals and no animal or human proteins
Gauze easily conform to wounds - simply position the gauze over the source of the bleeding and apply pressure
Lightweight, extremely compact hemostatic dressing - add it to your trauma kit, glove box, emergency medical kit, range bag, first responder kit, or purse
Specifications:
Size: 4.5" x 0.5" x 5"
Group size: 1 Person
Trip duration: Single use
WARNING
---
This product can expose you to chemicals which are known to the State of California to cause cancer, birth defects or other reproductive harm.
For more information go to www.p65warnings.ca.gov.
Part Numbers for Adventure Medical Kits QuickClot Gauze