ACR ResQLink 400 GPS Personal Locator Beacon Survival Kit - 2346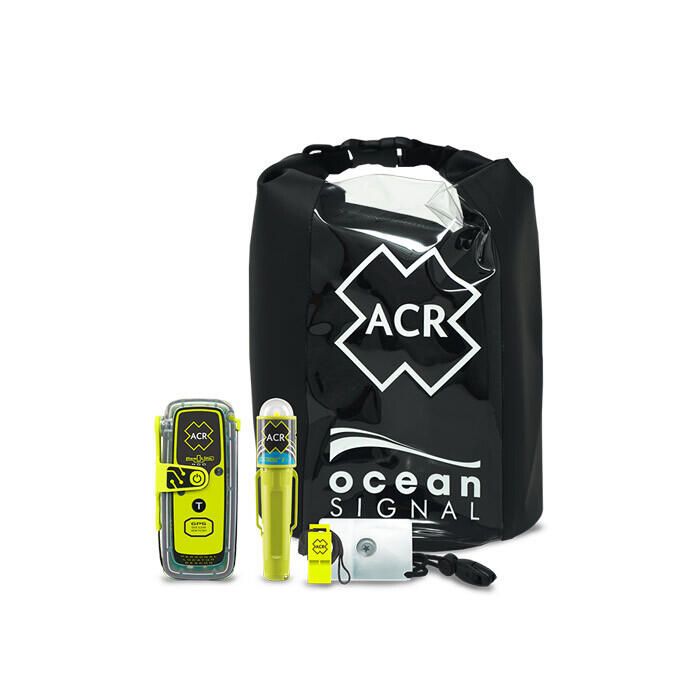 ACR ResQLink 400 GPS Personal Locator Beacon Survival Kit - 2346
Item # 932831
Description
ACR's ResQLink 400 Survival Kit is an excellent option to make sure you have your essentials for inshore, near shore or offshore boating. Bundled with a ResQLink 400 PLB, C-Strobe H2O rescue light, signal mirror, Res-Q whistle and a RapidDitch dry bag this package is everything you would need in the event of an abandon ship situation.
Features:
Buoyant Personal Locator Beacon designed to enhance your safety in a wide variety of environments
Three levels of integrated signal technology - GPS positioning, powerful 406 MHz signal, and 121.5 MHz homing capability
Quickly and accurately relays a position to a worldwide network of search and rescue satellites
Simply deploy the antenna, press the ON button, and the beacon will do the rest for you by effortlessly guiding rescuers to within 100 meters or less of your position
Built-in strobe and infrared strobe facilitate nighttime or other low visibility rescues
Multi-function clip provides numerous wear-ability options that address a variety of useful applications
Requires no subscription to be used
Lightweight and versatile C-Strobe™ H2O rescue light designed to fit easily in a pocket or hang discreetly when attached to a life jacket or backpack
3 Modes of operation (strobe, steady-on, SOS)
45 Lumen LED that operates typically for 120 hours continuously in strobe mode
Includes two activation methods; the light can easily be activated with a simple push of the On/Off button or when in the armed position, can be activated automatically when immersed in water
Compact survival whistle specially developed to locate boaters who've fallen overboard
Unique flat design prevents holding water
Issues a loud, shrill, dual tone audible from a great distance
RapidDitch dry bag composed of water-resistant fabric to stand up to the harshest of elements
Quality signal mirror for fail-proof daytime signaling
ResQLink 400:
Battery: Non-hazmat lithium batteries (LiMnO 2)
Class: Class 2 operation (at -4°F / -20° C)
Material: Engineered polycarbonate blend
Color: ACR-Treuse™ (high visibility yellow)
Activation: Manual
Weight: 0.33 lbs
Dimensions (LxWxD): 4.52" x 2.03" x 1.49"
Buoyant: Yes (category 1)
Temperature range:

Storage: -22° F to +158° F
Operating: -4° F to +131° F

Battery replacement: After 5 years or after emergency use, whichever is first
Operational life: 24+ Hours
Waterproof: 16.40 ft (5m) @ 1 hr., 33 ft (10m) @ 10 min.
Approvals: Cospas-Sarsat, FCC, Canada, RED, AMSA
Limited warranty: 5 Years
Dimensions: 5.56" x 1.38" x 1.2"
Weight: 40g without batteries
Operational life: >120 hr at 30° C (>100 hr at -1° C)
Activation method: Water or manual activation
Waterproof: Tested for 24 hrs @ 3.3 ft (1m)
Lamp: 45 Lumen white LED
Light type: Strobe / Steady-On / SOS
Battery: 2 AA batteries (sold separately)
Reverse battery protection: Yes
Limited warranty: 1 Year
Notes:
Make sure the antenna is pointing towards the sky, out of the water. Beacon is not intended to operate in water. While the unit is waterproof, it must be above the water's surface to function properly. Intended operational environments include on ground, above ground, and held in hand. In all cases, the beacon must be facing skyward with the antenna perpendicular
Claims based on test report from accredited laboratory
C-Strobe H20
WARNING
---
This product can expose you to chemicals including di(2-ethylhexyl)phthalate (DEHP) which are known to the State of California to cause cancer, birth defects or other reproductive harm.
For more information go to www.p65warnings.ca.gov.
Part Numbers for ACR ResQLink 400 GPS Personal Locator Beacon Survival Kit - 2346