ACR ResQFlare Electronic Distress Flare with Distress Flag - 3966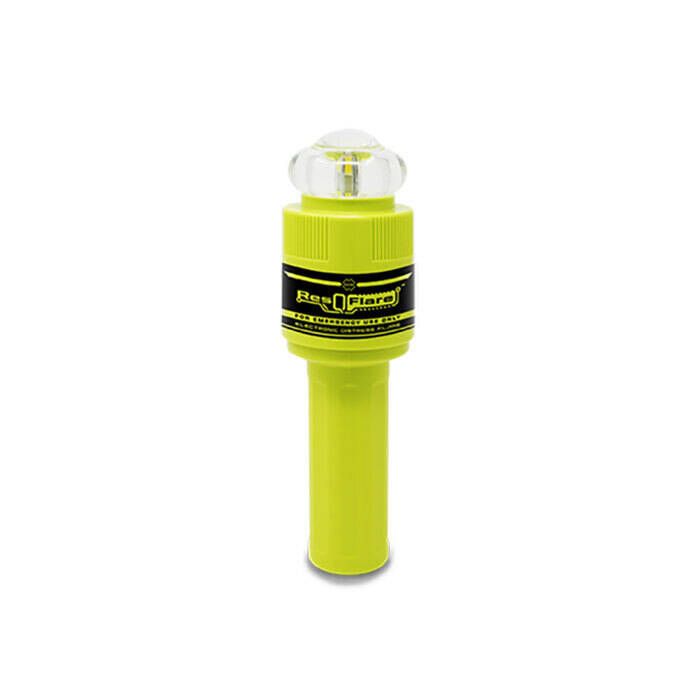 ACR ResQFlare Electronic Distress Flare with Distress Flag - 3966
Item # 859587
Description
The ResQFlare by ACR offers an efficient, durable design that provides 360° visibility to help drastically increase your chances of survival and rescue. The ResQFlare facilitates rescue by emitting the flash characteristic for the International Morse Code for S-O-S. Operating on just two user replaceable C-Cell Alkaline batteries, the ResQFlare's high efficiency electronics allow it to maintain the USCG required 75 cd peak equivalent fixed intensity for over 20 hours.
Features:
Bright, 360° light in all directions
High intensity LED strobe that maintains a minimum peak equivalent fixed intensity of 75 cd
Operational life of 20 hours - 3 times longer than the USCG requirements
Family safe (no burning flame)
Durable design: Fire-resistant, oil-resistant, fungus-resistant and corrosion-resistant
Easy to operate in the event on an emergency
Waterproof and buoyant, automatically rights itself and floats when in the water
Does not apply to existing mandatory disposal requirements for pyrotechnic flares
One-time purchase, no expiration date
Waterproof level, IP67
Power: User-replaceable C-Cell Alkaline Batteries (x2) (not included)
Certified under USCG 161.013 as a Nighttime Visual Distress Signal
Includes Distress Flag (Certified under USCG 160.072 as Daytime Visual Distress Signal)
Specifications:
ResQFlare
Battery: C Cell Alkaline Batteries (x2) (Not Included)
Battery replacement: Replace batteries annually
Light source: High efficiency 0.5W LED (x7)
Light Color: White
Dimensions: 2.36" x 8.07"
Weight (excluding batteries and flag): 0.3 lbs
Function: SOS Distress Signal Light (meets USCG specifications for a Night Visual Distress Signal as required by 33 CFR part 175)
Light intensity: =75cd (6.2 miles visual distance)
Operation time: =20 hrs. over 75 cd (room temperature)
Waterproof level: IP67
Buoyant: Inherently Buoyant (no buoyancy/flotation ring necessary)
Storage temperature: -22° F to 149° F
Working temperature: 30.2° F to 86° F
Activation: Manual
Environmental performance: Fire-resistant, Oil-resistant, Mycete-proof, Corrosion-proof, and Waterproof. Meets RoHS and asbestos-free requirements.
Approval: Certified to meet USCG 161.013, CE approval
Distress Flag
Color: Orange
Patterns on flag: Black square + black circle (distress signal)
Dimensions (L x W): 35.43" x 35.45"
Weight: 0.26 lbs
Storage temperature: -22° F to 149° F
Function: Distress Flag (meets USCG specifications for a Day Visual Distress Signal as required by 33 CFR part 175)
Operation: Fly the flag by attaching to the mast or simply hoisting to the highest possible point. The flag can be displayed by hand, tied to and then waved on items such as a boat hook, paddle, or fishing rod, or it can be laid flat on the deck to attract aircraft. Should be used as a day signal only and when displayed correctly, the black square should be over the black circle
Technical standards: Certified to meet USCG 160.072
WARNING
---
This product can expose you to chemicals including Lead and/or Lead compounds which are known to the State of California to cause cancer, birth defects or other reproductive harm.
For more information go to www.p65warnings.ca.gov.
Part Numbers for ACR ResQFlare Electronic Distress Flare with Distress Flag - 3966