ACR RCL-95 Remote Controlled LED Searchlight with Joystick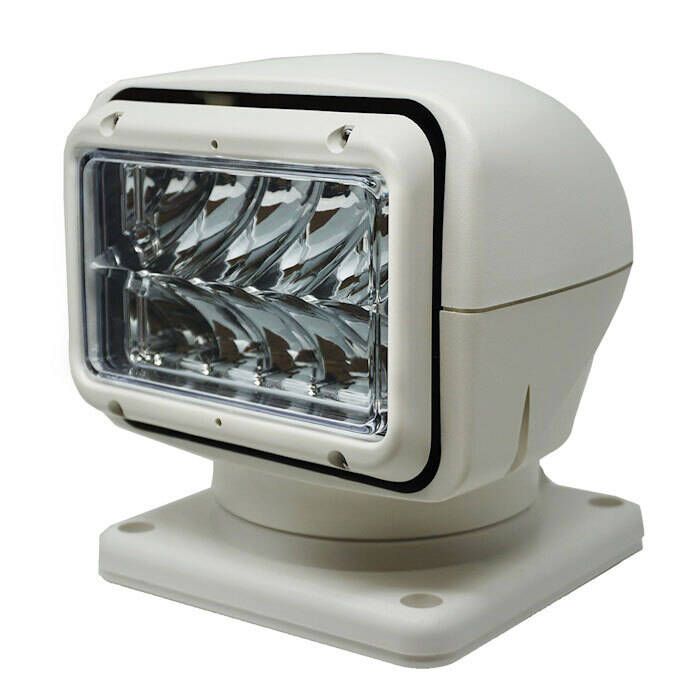 ACR RCL-95 Remote Controlled LED Searchlight with Joystick
Item # 859581
Description
The ACR RCL-95 Remote Controlled LED Searchlight was designed for performance and simplicity. Rated at 460,000 candelas using 10 High Flux (50W) LEDs, you have visibility over 3/4 of a nautical mile. The RCL-95 LED's sleek design makes it an attractive and cost-effective choice for small to medium-sized recreational powerboats as well as light commercial vessels.
Use the RCL-95 LED searchlight with either the wired dash mount joystick control or the wireless handheld remote to rotate the light 360° continuously at either a fast or slow speed without the hassle of a hard stop. With an 8° beam angle, the light can tilt an impressive 135° to make lighting draw bridges, buoys and docks a breeze.
The auto-home feature will conveniently park the searchlight back at the desired starting location each time you turn the searchlight off.
The RCL-95 is weather resistant with the electronics located in the IP68 water-resistant light head instead of the base for increased protection. The ASA housing and lens are sealed against the elements for years of trouble-free operation.
Features:
10 High Flux LEDs (OSRAM)
460,000 Candela, Max Beam Distance 4,501 Feet (1,372 m)
Wireless handheld remote and wired dash mount joystick (both included)
360° Continuous rotation, 135° tilt
Auto-home return when off
Draw: 4 Amps @ 12 volt DC to 2 amps @ 24 volt DC
Efficient, long life LED's - 50,000 operating hours
UV & weather resistant housing
Simple installation (12-24 volt DC power connection and 5 meter wired joystick control cable)
Specifications:
ACR Product Number PN 1958 (White)/PN 1959 (Black)
Material: Acrylonitrile Styrene Acrylate (ASA) Housing for improved weather resistance
Operation:

Wireless handheld remote (included)/433.92 MHz
Wired dash mount joystick (included with 16.4' (5m) cable)

Peak beam candle power: 460,000
Beam maximum distance 4,501 ft (1,372 meters)
Beam: Pattern/Angle Spot/8°
Elevation angle: 135°
Rotation: 360° Continuous
Rotation speed fast: 19° per second, slow 12° per second
Elevation speed: 11° per second
Lamp: LED 50 Watt (OSRAM x 10)/50,000 hour life
IP Rating:

IP 56 (Housing)
IP 68 (LED Module)

Footprint diameter (distance between mounting holes): 4.92" x 4.92" (12.5 x 12.5 cm)
Total footprint (dimensions of searchlight base): 6.06" x 6.06" (15.4 x 15.4 cm)
Power requirements: 12 or 24 Volt DC
Size: 5.9 x 7.1 x 7.5" (15 x 18 x 19 cm)
Weight: 4.2 lbs (1.9 kg) (searchlight only)
Patents: D752,267/9,249,960/9,890,923/10,012,369
Approvals: FCC/CE/R10
WARNING
---
This product can expose you to chemicals which are known to the State of California to cause cancer, birth defects or other reproductive harm.
For more information go to www.p65warnings.ca.gov.
Part Numbers for ACR RCL-95 Remote Controlled LED Searchlight with Joystick