ACR OLAS Float-On Wearable MOB Crew Tracker with Flashlight - 2982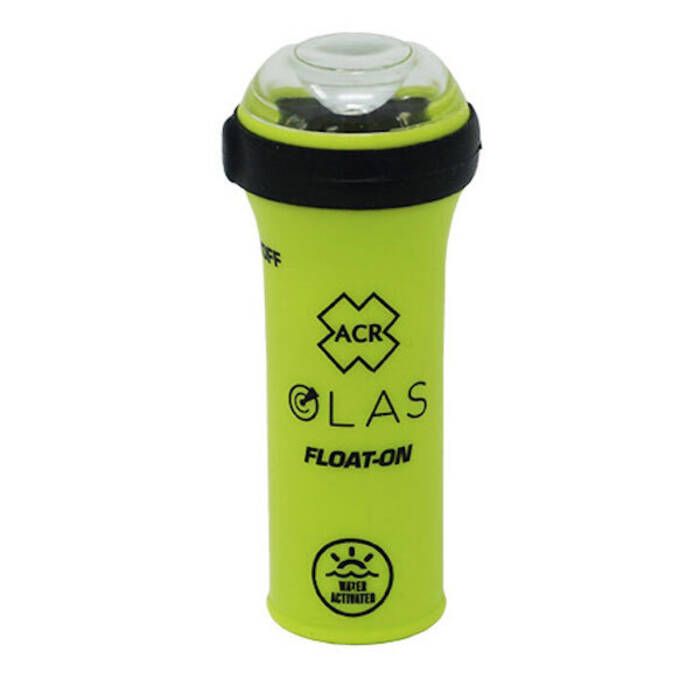 ACR OLAS Float-On Wearable MOB Crew Tracker with Flashlight - 2982
Item # 859571
Description
The ACR OLAS Float-On is a buoyant wearable crew tracker that integrates OLAS (Overboard Location Alert System) technology with an LED flashlight and water activated strobe. The ACR OLAS mobile application technology detects a break in its 'virtual tether' to the ACR OLAS Float-On within 8 seconds of a transmitter going missing. The mobile phone(s) then sounds an alarm and records the latitude and longitude of the incident using the phone or tablet's GPS. ACR OLAS then aids the crew with the MOB recovery, directing them to the GPS location of the MOB event with visual signals and bearing data.
ACR OLAS stores all location data and time of incident required by rescue services. As an extra safety feature, in addition to the audible alarm on the mobile device, the strobe light automatically activates once the transmitter's integrated water sensors detect six seconds of water connection. The high-power strobe flashes once every second for up to 20 hours and is visible up to 3 nautical miles.
Activate Solo mode on the app (2G phone signal required) when boating alone and the OLAS app will automatically text message (SMS) your emergency contact with your GPS coordinates.
Users can track up to 6 different OLAS Transmitters with 1 phone/tablet and each individual OLAS Transmitter can be tracked by an unlimited number of phones/tablets. If you want to track more OLAS Transmitters, add the ACR CORE base station or Guardian Engine Kill Switch and MOB alarm, scaling your system to monitor up to 15 OLAS Transmitters.
The LED light is effective as a flashlight while also emitting side light to ensure complete all-round visibility when acting as a position indicating light or strobe.
Start small or go big, the ACR OLAS is the only solution that can scale to meet your boating needs. The range of the ACR OLAS transmitters allows for coverage on vessels up to 40 ft in length. However, the transmitter is part of a larger scalable ecosystem of ACR OLAS products (transmitters and receivers) that offer additional safety features and can be combined to track large crews on larger vessels. You can even ditch your phone and utilize your ACR OLAS Float-On with the OLAS Guardian Engine Kill Switch or OLAS Core Base Station as part of a more permanent solution.
Features:
ACR OLAS free mobile app integration
Bluetooth® 4.1 compatible
Water activated strobe
Solo mode texts coordinates to emergency contact
Connect transmitter to multiple phones/tablets
Scalable system for large crews
LED Flashlight (low/med/high)
Waterproof (IP67)
Buoyant
Battery life indicator
Fast charge (3 hours)
USB Rechargeable
Includes USB Charging Cable and Lanyard with clip
Specifications:
Size: 3.26" (H) x 1.30" (D)/83mm (H) x 33mm (D)
Weight: 1.5 Ounces (0.04 kg)
Color: ACR-Treuse
Operation: Manual Activation or Automatic activation via proximity sensing or contact with water
Light Output (Lumens): 120 (high power maximum Lumens), 60 (medium power), 10 (low power)
Runtime (hours) Flashlight: 1.5 (high power), 4 (medium power), 12 (low power), 20 (strobe), 720 (Standby with water activation mode and OLAS active), 1440 (Standby with water activation mode active)
Charge Time (hours): 3
Battery (rechargeable): 700mAh Lithium-Ion
Battery Life Indicator: Flashing LED Indicator
Mobile App:

IOS and Android (Free Download)
Connect multiple OLAS transmitters to 1 phone or tablet
Connect 1 OLAS transmitter to multiple phones/tablets
Solo Mode (Text Message Alerts to Emergency Contact with GPS coordinates)
App Navigation: Back to point of loss
Automatic VHF script for MOB alert
Download the ACR OLAS App on the App store or get it on Google Play: Search 'ACR OLAS'

Range: For use with vessels up to 40 feet (12 meters)

Extend the coverage range on larger vessels with the ACR OLAS CORE, GUARDIAN and EXTENDER product family

Scalability: Upgrade your system with the ACR OLAS Guardian (Engine Kill Switch and MOB Alarm System), ACR OLAS CORE (Base Station with Alarm), and ACR OLAS Extender (extends range of your MOB system from a vessel size of 40 ft up to 100 ft)
Waterproof: Yes (IP67)
Approvals: FCC, RED, CE
WARNING
---
This product can expose you to chemicals including di(2-ethylhexyl)phthalate (DEHP) which are known to the State of California to cause cancer, birth defects or other reproductive harm.
For more information go to www.p65warnings.ca.gov.
Part Numbers for ACR OLAS Float-On Wearable MOB Crew Tracker with Flashlight - 2982