ACR GlobalFix Category 1 V4 EPIRB - 2830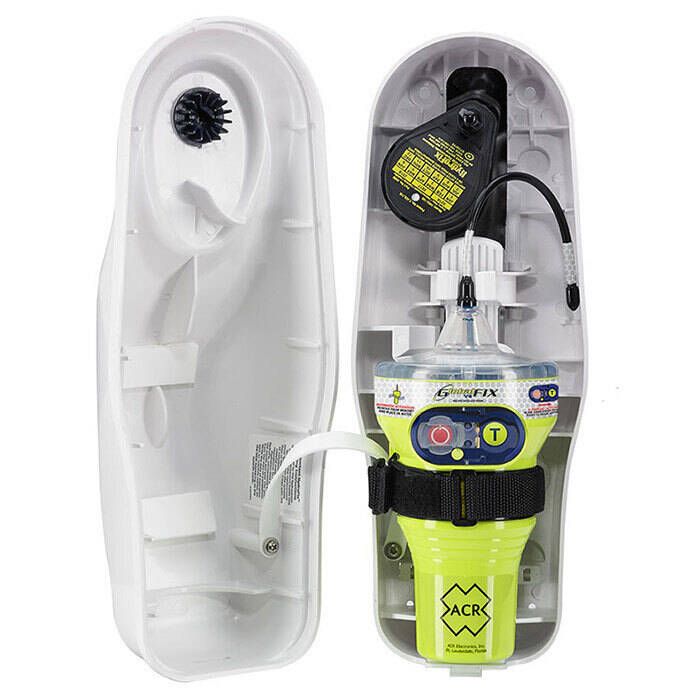 ACR GlobalFix Category 1 V4 EPIRB - 2830
Item # 859566
Description
The ACR GlobalFix™ V4 EPIRB is a marine distress beacon with multiple built-in redundancies to increase your chances of survival in an emergency situation.
The internal GPS will pin-point your location, which is transmitted on the 406 MHz distress signal which in the absence of GPS coordinates, can be used to triangulate your position.
The beacons 121.5 MHz homing signal will bring local search and rescue forces directly to your position and the EPIRBs LED strobe light will allow them to visually locate your position in low light environments.
Features:
The GlobalFix V4 has (2) functional self-tests to monitor the beacons transmission, power and battery performance, as well as GPS acquisition: pair these tests up with ACR's 406Link.com optional testing portal (sold separately) and receive satellite confirmation messages directly to your cellphone or email
User replaceable battery: the user replaceable battery pack has a 10 year replacement interval reducing the overall ownership cost and making replacement a breeze
Highly visible LED strobe - Energy efficient
Internal 66 channel GPS - Fast cold start
High efficiency electronics - Performance you can count on
Professional grade design - Engineered, tested and built for years of abusive marine use
Simple manual activation Keypad with protective cover to prevent false alarms
Uses Search and Rescue Satellites No subscription fees
If you use the ACR EPIRB or PLB in an Emergency Situation ACR will replace it free of charge
If you use your ACR or ARTEX 406 MHz EPIRB, ELT or PLB (Personal Locator Beacon) in a lifesaving emergency that results in your life being saved by search and rescue personnel, ACR/ARTEX will replace your beacon with a new beacon of equal or greater value (hereinafter, the "Program") subject to the terms and conditions described in link below
Specifications:
Activation Method: Out of bracket and wet, or manually
Application: Coastal Cruising, Sailing, Offshore Recreational, Commercial Marine
Material: High Impact UV resistant polymer
Battery Life: 10 Year User Replaceable (P/N 1104)
EPIRB Type: Category 1/ Class 2
Floating: Yes
GPS Enabled: Yes
Dimensions: 8.6 x 4.3 x 3.6"
Strobe: LED Strobe
Transmit Time: Minimum 48 Hours at -4°F (-20°C)
Waterproof: 33 ft (10m) for 10 min. Exceeds RTCM standard
Weight: 3.85 lbs (61.6 oz) with bracket
Category 1 vs: Category 2 EPIRBs
Category 1 EPIRBs automatically release from their mounting brackets when immersed in 15' or more of water
Category 2 EPIRBs must be manually released from their mounting brackets
Note: Once released from their mounting brackets, both Category 1 and Category 2 EPIRBs can be activated automatically by immersion in water, or manually by following the activation instructions printed on the unit.
SurvivorClub Terms and Conditions
Part Numbers for ACR GlobalFix Category 1 V4 EPIRB - 2830