ACF-50 H & M Marine Corrosion Block - ORP CB12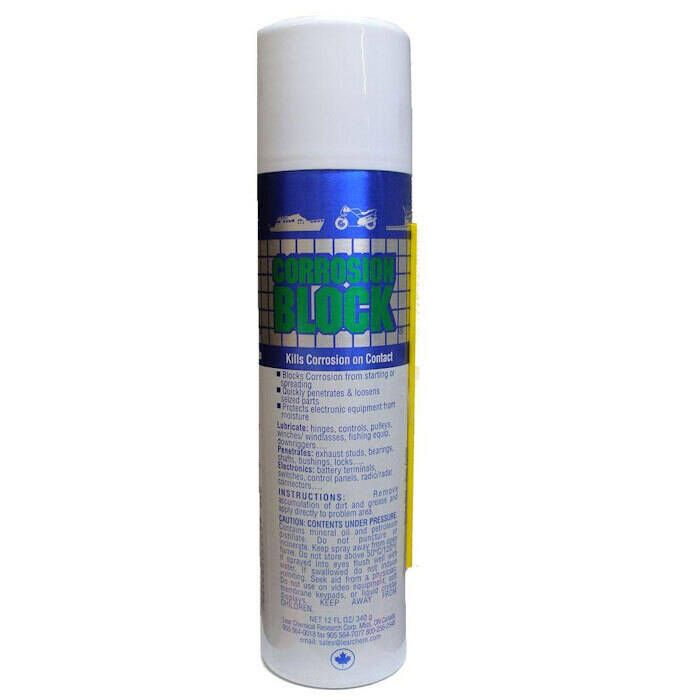 ACF-50 H & M Marine Corrosion Block - ORP CB12
Item # 859423
Description
Corrosion is a natural process which converts most metals by either a chemical or electrochemical reaction into a stable metallic compound such as oxide, hydroxide or sulfate. The environment and preventative maintenance greatly influence the rate at which metals corrode.
Metals that are exposed to marine atmospheres, moisture and tropical temperatures have the highest rate of corrosion. H & M Marine Corrosion Block helps you isolate moisture from the metal surface, so the process stops
Features:
H & M Marine Corrosion Block is a state-of-the-art anti-corrosion/lubricant compound that has been specifically designed for marine use
Penetrates corrosion cells, emulsifies the moisture, separates it from the metal and stops electroactivity, leaving an ultra-thin atmospheric barrier to protect metal from further damage
Clean, clear, ultra-thin fluid compound which leaves a non-greasy atmospheric barrier to protect metal
Leaves no gummy residue
Contains no wax, tar, asphalt, silicon, or Teflon
Protects electrical systems and electronics from salt water, moisture, and corrosion
Highly effective as a penetrant and lubricant and it displaces moisture to protect electronics from moisture
Prevents rust and corrosion from starting and blocks it from spreading
Penetrates and loosens seized parts
Protects the flexibility of rubber
Kills corrosion and prevents future corrosion from occurring
Frees metal parts that are frozen by corrosion
Protects fishing tackle, guns, and outboard engines from corrosion
Container: 12oz. Spray Can
Warning: Do not use on video equipment, soft membrane keypads or liquid crystal displays.
Part Numbers for ACF-50 H & M Marine Corrosion Block - ORP CB12