3M Marine OneStep Aluminum Restorer & Polish - 051131-09020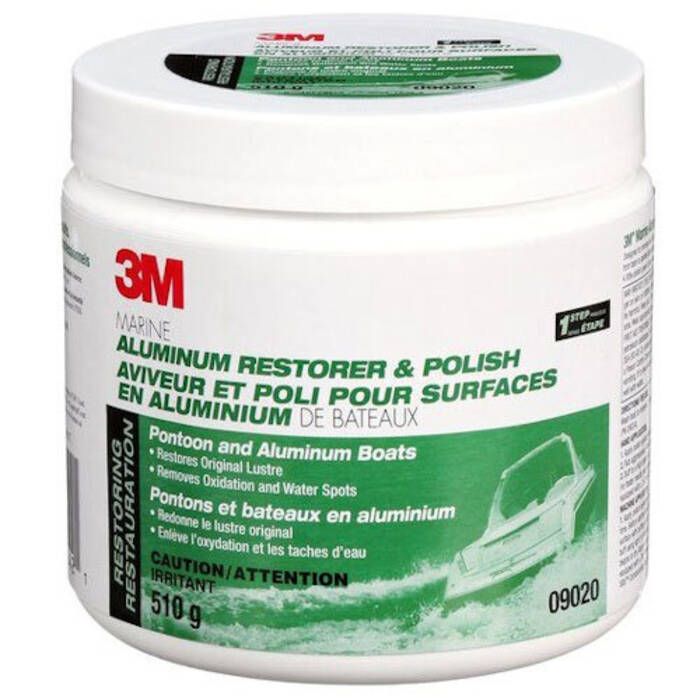 3M Marine OneStep Aluminum Restorer & Polish - 051131-09020
Item # 859275
Description
Features:
3M Marine OneStep Aluminum Restorer & Polish restores the beauty and luster to aluminum
Revives the appearance of aluminum throughout boats by aggressively removing oxidation and stains to either bare or painted aluminum
3M Aluminum Restorer and Polish has a light abrasive action that will restore the original luster. It will restore high gloss surfaces to a highly polished look, while brushed and matte finishes will be restored to original color and luster
This concentrated formula means a small amount removes a lot of oxidation and chalking
May be applied by hand or machine
This product is ideal for cleaning and polishing aluminum deck hardware, cleats, through hulls, stanchions, rails and ladders
For painted aluminum, 3M recommends testing on a small inconspicuous area to determine effect
Directions for Use:
Hand Application:

Apply a small amount of material to small area using a 3M™ Microfiber Detail Cloth
Rub aggressively using short strokes
Keep turning the cloth as more material is applied
Buff to a high luster using a clean, soft cloth. Do not stop and allow to haze

Machine Application:

Apply with an air or electric buffer (1400-2000 Max. RPM) equipped with a 3M™ Perfect-It™ 100% Wool Compounding Pad or 3M™ Perfect-It™ Low Linting 100% Wool Compounding Pad
Apply a sufficient amount of material to boat surface to work a 2 foot by 2 foot area
Before starting machine, spread the material with a buffing pad to reduce slinging of material and clean up
Buff using light to medium pressure in a consistent and uniform pattern
Reduce pressure when material begins to dry
Repeat if needed
Note: For best results, use machine application. Before using this product, please reference Product Label and/or Safety Data Sheet for Health and Safety Information.
Part Numbers for 3M Marine OneStep Aluminum Restorer & Polish - 051131-09020