3M 5200 Marine Adhesive Sealant
$18.99 - $31.99
$16.99 - $31.99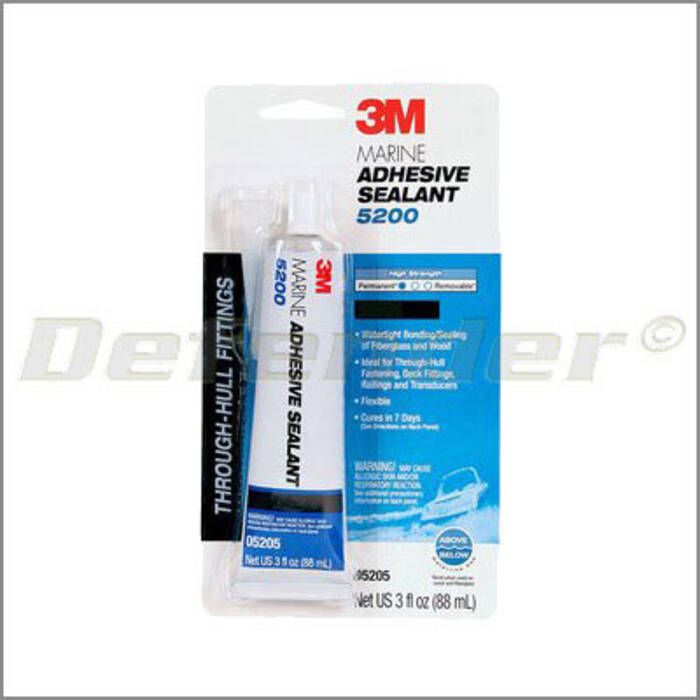 3M 5200 Marine Adhesive Sealant
Item # 859208
Description
3M™ Marine Adhesive Sealant 5200
Features:
High-performance sealant retains its exceptional strength above and below waterline
Remains flexible after curing and allows for structural movement
Effectively absorbs stress caused by shock or vibration
Excellent resistance to weathering and saltwater
Applications include fiberglass deck to hull joints, portholes and deck fittings, hull seams above and below waterline, struts and planking, etc
Remains workable up to 4 hours after application
Won't sag or flow in vertical or horizontal seams
Cleans up with mineral spirits or kerosene
Specifications:
Material: One-part polyurethane
Color: Black, Mahogany, Tan, or White
Consistency: Medium paste
Container: 3 oz. or 10 oz. tube
Tack-Free Time: 48 hours
Cure Time: 5-7 days (moisture activated)
Tensile Strength: 700 psi
Note: Tack-free and cure times are subject to atmospheric conditions.
Part Numbers for 3M 5200 Marine Adhesive Sealant