3M 4000 UV Marine Adhesive Sealant Fast Cure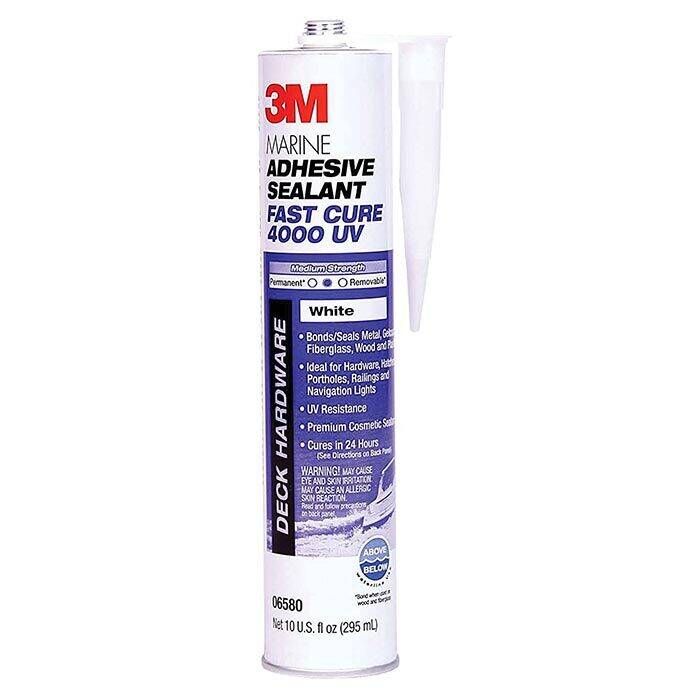 3M 4000 UV Marine Adhesive Sealant Fast Cure
Item # 859202
Description
3M™ Marine Adhesive Sealant Fast Cure 4000 UV
Features:
High-quality sealant cures to form a firm, rubbery watertight seal resistant to stresses caused by shock, vibration, swelling, shrinking or joint movement
Formulated to withstand UV exposure without discoloring
Excellent adhesion to wood, fiberglass, metals and most plastics above and below the waterline
Applications include deck to hull joints, deck hardware, thru-hull fittings, navigation lights, hatches and porthole frames, etc
Resists weathering, saltwater and freshwater contaminants
15-20 minute skin time helps keep jobs moving quickly
Medium strength - can be removed if rework or repair is necessary
Paintable immediately after application
Specifications:
3M Marine Model No. 05503
Material: One-part polyether
Color: Black
Consistency: Medium paste
Container: 10 oz. cartridge
Tack-Free Time: Less than 2 hours
Cure Time: 24 hours
Tensile Strength: 300 psi
Recommended Applications:
Electrical assembly
Hatch Stanchion supports
Thru-hull fittings
Deck hardware
Porthole frames
Sealing screw holes
Note: Tack-free and cure times are subject to atmospheric conditions.
Part Numbers for 3M 4000 UV Marine Adhesive Sealant Fast Cure