This product has been discontinued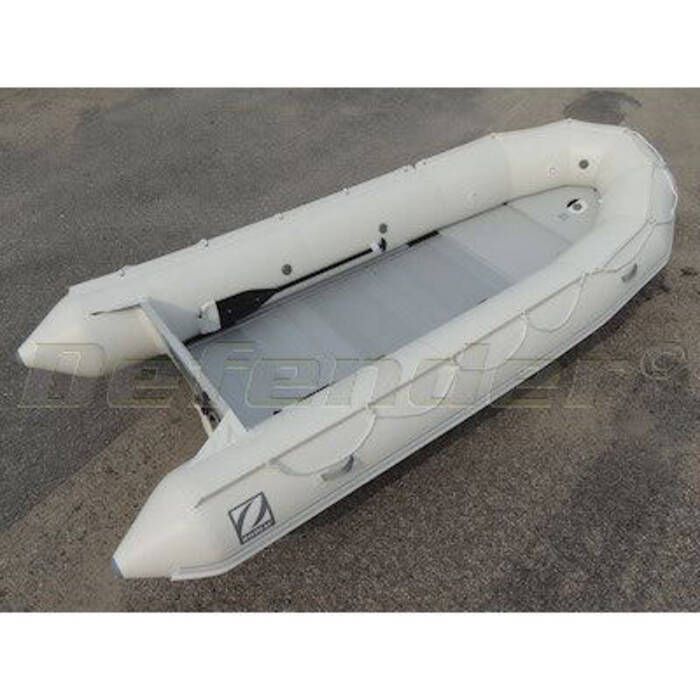 Zodiac Milpro Grand Raid Series 15' 5" White Inflatable Boat
Item # 889456
Description
Custom built with the Yacht Owner in mind, this White Hypalon Grand Raid can be assembled in about 20 minutes and ready for shore exploration or passenger transport. When ready to set sail, the MK3 can be stowed in a deck locker so the deck remains clear. This custom-built model, from Zodiac's Military division, is only available at Defender Industries.
A veteran of Zodiac's Military and Professional range of craft, the Grand Raid series has been one of the most respected inflatable Boats used world wide. Recently, the series has gone through another evolution, further enhancing its platform. Suitable for a wide range of applications, it is easy to see why the Grand Raid has been around for generations.
The features of this boat include a blunt bow, which increases the usable space of the Boat, and I/C (Inter-communicating) valves, which keep the inflation process simple.
The Grand Raid Series Boats are designed to be functional, durable and versatile. Two people can assemble the Grand Raid and have the craft operational in less than 20 minutes.
Specifications:
Length 15' 5"
Beam 6' 3"
Hull Weight 247 lbs
Capacity: (9) Persons (2692 lbs)
Maximum power allowed 65L hp (20" Shaft)
Maximum Motor Weight: 253 Lbs
Tube Diameter 20"

Separate Air Chambers: (5 + 1)

Fabric Type: 1100 Decitex, Polyester, Hypalon-Neoprene
Factory Warranty: 5 years
Standard Features Include:
Non-skid Aluminum Floor with anodized Aluminum stringers
Bow Floorboard, wood, Gray
Marine plywood transom, Gray
Aluminum engine mounting plate
Ovoid reinforcement on tube transom attachments
High volume self bailer with sleeve
Standard self bailer with plug
All around rub strake, flat profile, Gray
Keel rubbing strakes for beaching
(4) Carry handles
Bow handle
Exterior lifelines (Peripheral)
(4) Interior tie down D-rings (Stainless steel
(2) large tow rings on bow (Stainless steel)
Foot pump with hose
Repair kit with pressure gauge
Storage Bags
(2) Paddles (Aluminum shaft, plastic blade)
Part Numbers for Zodiac Milpro Grand Raid Series 15' 5" White Inflatable Boat