This product has been discontinued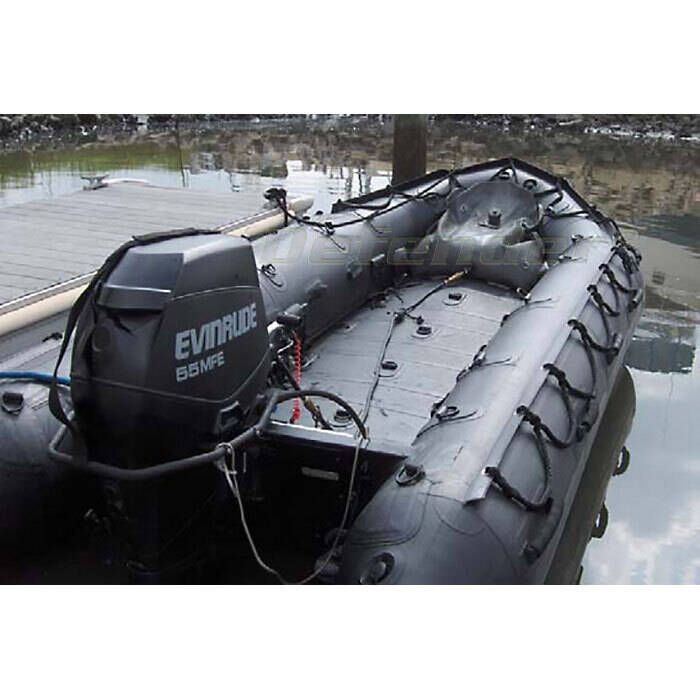 Zodiac Milpro FC470 EVOL-7 Special Forces Craft 15' 5" Inflatable Boat - FC470 EVOL-7 #Z80270
Item # 889442
Description
Well known throughout the world as the definitive Special Forces Boat, the FC range is used by more elite soldiers and sailors than any other craft worldwide. It is the only craft of its type that has actually been used in combat in different theatres and comes through with flying colors. This is a result of its unique patented hull shape and various Floor systems that allows it to carry combatants in a variety of missions. The hull shape is especially important as it can get a large load on plane as well as give the driver unsurpassed maneuverability in different and often dangerous conditions. The Zodiac MilPro Futura Commando is the most recognizable military Boat.
Specifications:
Length 15' 5"
Beam 6' 3"
Hull Weight 301 lbs (Empty)
Capacity: (10) Persons (2756 lbs)
Maximum power allowed 55L hp (20" Shaft)
Maximum Motor Weight 280 lbs
Tube Diameter 20"

Separate Air Chambers (5 + 1 + 2)

Fabric: 1670 Decitex, Polyamide, Hypalon-Neoprene (bouyancy tube) 940 Decitex, Polyamide, Hypalon-Neoprene (keel, speed tubes and bottom)
Factory Warranty: 5 years
Standard Features Include:
Futura hull with inflatable keel and speed tubes
High pressure inflatable floor
Reinforced plywood transom with bottom edge stainless steel protection
Ovoid reinforcement on tube transom attachments
Self bailers
Inter-communicating inflation valves
Peripheral flat rubbing strake
Rubbing strakes for beaching on keel and tubes
Lateral carry handles (10)
Exterior lifelines (Peripheral)
Interior handles
Bow handle (metal with black coating)
(2) Large tow rings fore and aft
Transom lifting points
Bow lifting points
(13) Interior large tie down D-rings on tube
(8) Interior large tie down D-rings on floor
Foot pumps with hose (2)
(6) Paddles
Note: Motor sold separately.
Part Numbers for Zodiac Milpro FC470 EVOL-7 Special Forces Craft 15' 5" Inflatable Boat - FC470 EVOL-7 #Z80270