This product has been discontinued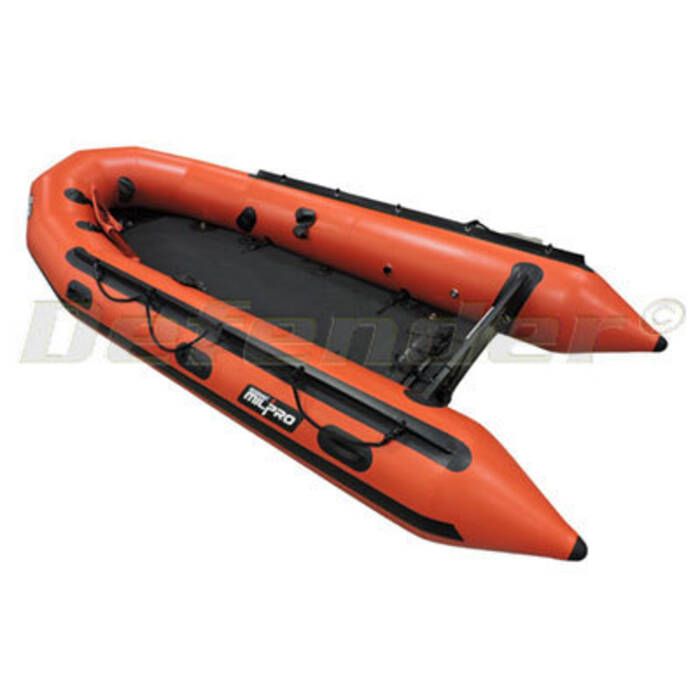 Zodiac MilPro ERB400 Emergency Response 13' 5" Black Inflatable Boat - ERB 400 HPP #Z85039 Black
Item # 889437
Description
The Zodiac MilPro ERB (Emergency Response Boat) series has been specifically designed to meet the demanding requirements of Search & Rescue organizations throughout the world. The High Pressure air Floor makes the ERB series a compact Boat, that can be easily and quickly deployed with high pressure inflation systems in minutes.
Features:
Inter-communicating inflation valves on main tubes
Fast inflation kit for SCUBA bottle
High Pressure Air Floor
Over-pressure valves on main tubes and air keel
Transom with Aluminum engine mounting plate for single engine
Self Bailers in transom

(1) Large flow w/sleeve and (1) Small bailer

Peripheral Rubbing strake
Rubbing strakes for beaching on keel and tubes
Transom bottom Stainless steel protection shoe
Front towing D-ring patches
Rear towing U-bolts on transom
Front lifting D-rings
Rear lifting U-bolts in transom
(6) Lateral carry handles
Bow carry handle
Lifeline on lateral lacing cuffs
Bow skirt
Foot bellows with hose
Pressure gauge
Repair kit
(2) Telescopic paddles
Storage bag
Specifications:
Length 13' 5"
Beam 6' 3"
Hull Weight 145 lbs
Capacity: (8) Persons (2028 lbs)
Maximum power allowed 40L hp (20" Shaft)
Maximum Motor Weight: 216 Lbs
Tube Diameter 20"

Separate Air Chambers: (4 + 1 + Floor)

Fabric Type: 1110 Decitex, Polyester, Hypalon-Neoprene
Factory Warranty: 5 years
Note: Images show red model - actual product is black.
Part Numbers for Zodiac MilPro ERB400 Emergency Response 13' 5" Black Inflatable Boat - ERB 400 HPP #Z85039 Black