Zodiac Cadet 350 Alu Aluminum Floor 11' 6" Boat with Honda 20 HP Motor - BF20 - 2022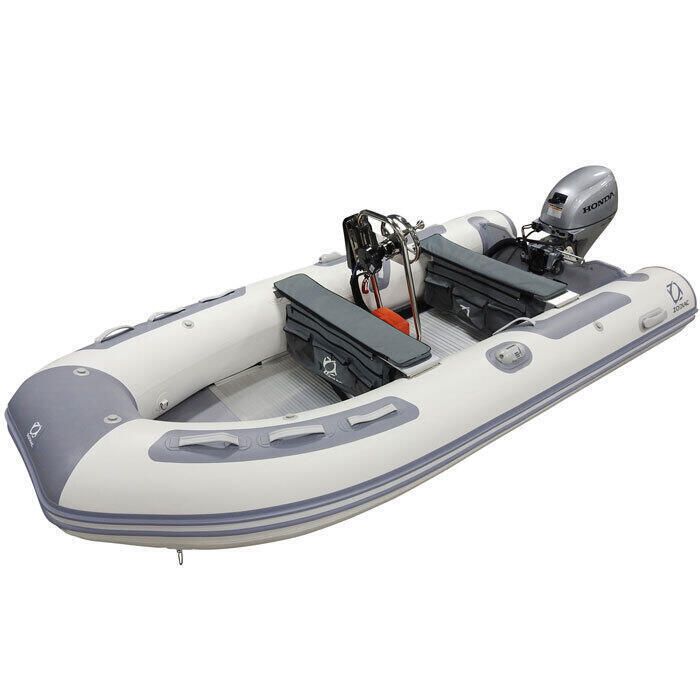 Zodiac Cadet 350 Alu Aluminum Floor 11' 6" Boat with Honda 20 HP Motor - BF20 - 2022
Item # 973005
Description
Features:
Stainless steel floor mounted pedestal steering system
Stainless steeel steering wheel with power knob
Rowing seat with underseat storage bag
Battery and battery box
Stingray hydrofoil to increase stern lift
Towing bridle D-rings (Port and Starboard)
Protective rubbing strake
Bow handle
Fuel filter, inline
Inflation pump
Repair kit
Oars
Includes rigging components, hardware and prep
Specifications:
Length: 11' 6"
Beam: 5' 8"
Weight: 148 lbs
Capacity: 6 Persons or 1433 lbs
Maximum Motor: 20 hp (Maximum motor weight 122 lbs)
Manufacturer Recommends: 15 hp (15" shaft)
Tube Diameter: 18"
Separate Air Chambers: (3) + Keel
Solid Panel Aluminum Floor (with Wood Bow Board)
Fabric Type: PVC, Zodiac 1100 Decitex (Welded Seam Construction)
Honda 20 HP 4-Stroke engine, remote steering, electric start, power tilt, 4-blade aluminum propeller, and 3 gallon fuel tank
Factory Warranty: 5 years. Warranty begins on date of purchase.
Note: Factory warranty begins on date of purchase.
Zodiac Cadet 350 Owner's Manual
Part Numbers for Zodiac Cadet 350 Alu Aluminum Floor 11' 6" Boat with Honda 20 HP Motor - BF20 - 2022