Yamaha 4 HP Tiller Outboard Motor - F4 - 2023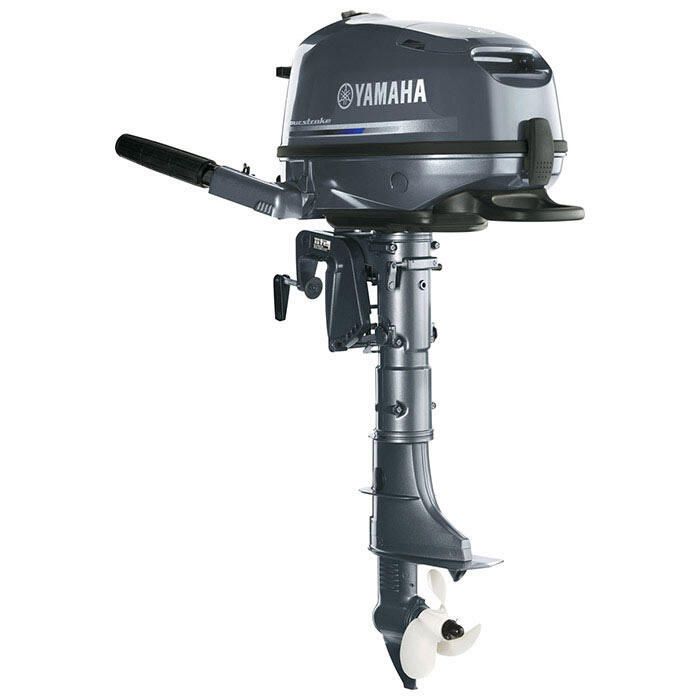 Yamaha 4 HP Tiller Outboard Motor - F4 - 2023
Item # 951584
Description
Yamaha's 139 cc 4 HP portable outboard mirrors the OHV F6, with a couple less horses. It features the same ergonomic, easy-grip starter handle with a built-in decompression device for effortless starts. The F4 also features a built-in fuel tank with the option of switchable access to an additional external tank for amazing extended range. There's no stopping this little brute.
Features:
Tiller-handle control with forward-neutral-reverse shifting and an ergonomic twist-grip throttle
Only 59 pounds (15" shaft model, dry weight)
Solid 6A alternator
Specifications:
Engine Type: 1 cylinder
Displacement: 139 cc
Bore x Stroke: 62 x 46 mm (2.44 x 1.81")
Prop Shaft Horsepower: 4 HP at 4500 rpm
Full Throttle RPM Range: 4000 ~ 5000
Alternator Output at W.O.T.: 6A
Compression Ratio: 8.9:1
Fuel Induction System: Carburetor
Weight: 27 kg (59 lbs)
Recommended Fuel: Octane 87
C.A.R.B. Rating: 3-Star
Exhaust: Above Propeller
Intake: 2
Ignition: CDI
Spark Plug: CR6HSB
Alternator Output: 6A
Starting System: Manual
Lubrication: Wet Sump
Engine Oil Capacity: 0.6 L
Recommended Cooling: Thermostatic Control
Ethanol Blend Limit: 10% Maximum
Gear Ratio: 2.08:1
Gear Shift: Forward, Neutral, Reverse
Degree of Tilt: 69°
Degree of Trim: -4° through +16°
Dry Weight: 27 kg (59 lbs)
Steering Angle (maximum): 90 deg. from center, either direction
Fuel line included
Standard 3-Blade Aluminum Propeller: 7 1/2" x 7"
Factory Warranty: 3 years. Warranty begins on date of purchase.
Note: External fuel tank not included.
Part Numbers for Yamaha 4 HP Tiller Outboard Motor - F4 - 2023