Yamaha 2.5 HP Tiller Outboard Motor - F2.5 - 2023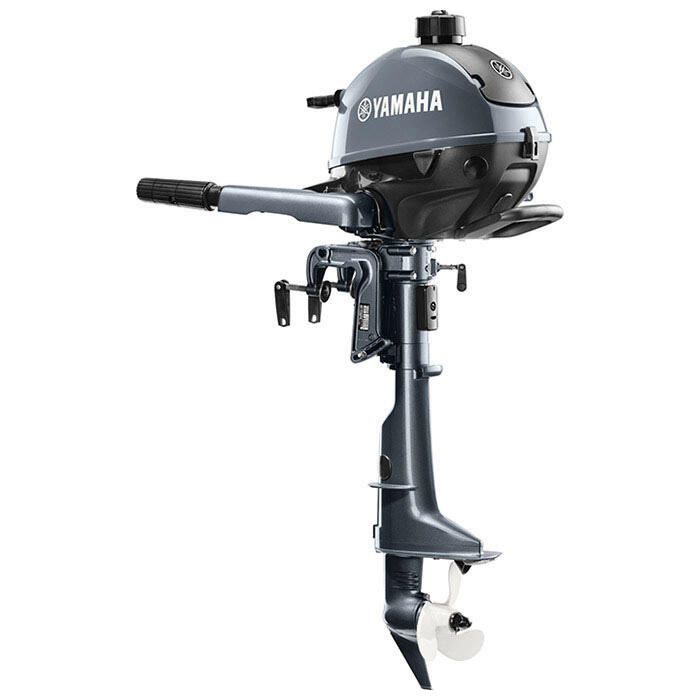 Yamaha 2.5 HP Tiller Outboard Motor - F2.5 - 2023
Item # 951582
Description
Yamaha's 72 cc 2.5 HP portable outboard is the smallest motor on the roster, but it still packs a punch. Completely redesigned, it's even more portable, easier to store and clean burning.
Features:
Forward / Neutral shift (360 Degree Swivel Steering)
3-Way Storage Positions - (Stbd, Front and Port)
Large Tiller Handle
Single carburetor
Water Cooled
Integral Fuel Tank: 0.24 gal (0.9 L)
Decompression Device: reduces pulling force for easier starting
Specifications:
Engine Type: 1 cylinder
Displacement: 72 cc
Bore x Stroke: 54 x 31.5 mm (2.13 x 1.24")
Prop Shaft Horsepower: 2.5 HP at 5500 rpm
Full Throttle RPM Range: 5250 ~ 5750
Compression Ratio: 8.8:1
Fuel Induction System: Carb
Weight: 17 kg (37 lbs) - 20 kg (40lbs) (dry weight without propeller)
Recommended Fuel: Octane 87
Recommended Engine Oil: Yamalube 4M
C.A.R.B. Rating: 2-Star
Exhaust: Above Propeller
Intake: 2
Ignition: TCI
Spark Plug: CR6HSB
Lubrication: Splash
Engine Oil Capacity: 0.35L
Recommended Cooling: Thermostatic Control
Ethanol Blend Limit: 10% Maximum
Gear Ratio: 2.01:1
Gear Shift: Forward, Neutral
Shaft Length: 15" - 20"
Degree of Tilt: 79°
Degree of Trim: -4° through +16°
Dry Weight: 15" shaft / 17 kg (37 lbs), 20" shaft / 20 kg (40 lbs)
Mounting Centers: N/A
Steering Angle (maximum): 360 deg. from center, either direction
Fuel line included
Standard 3-Blade Aluminum Propeller
Factory Warranty: 3 years. Warranty begins on date of purchase.
Note: External fuel tank not included.
Part Numbers for Yamaha 2.5 HP Tiller Outboard Motor - F2.5 - 2023