Xantrex 110W Flex Solar Panel - No Controller - 781-0110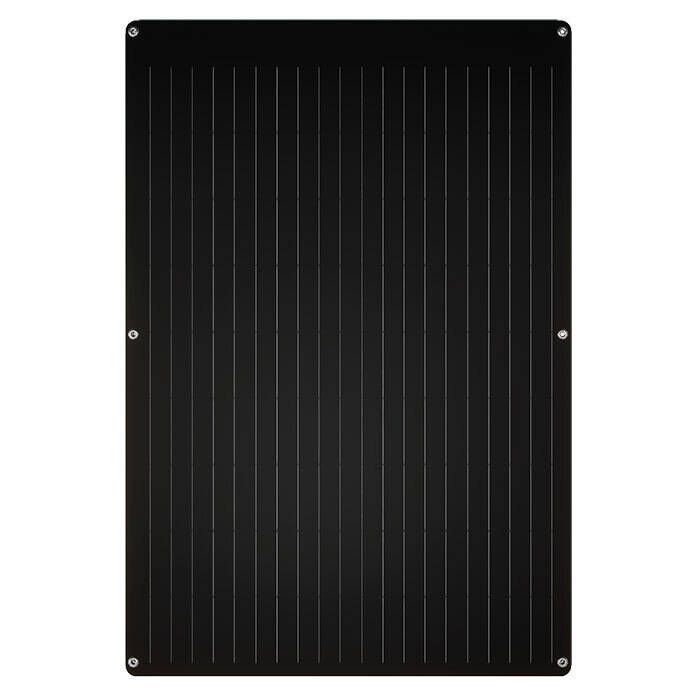 Xantrex 110W Flex Solar Panel - No Controller - 781-0110
Item # 888926
Description
Xantrex's flexible, easy-to-install and lightweight 110W Flex Solar Panel provides a maintenance free, renewable solution to maximizing your battery life and prolonging a power supply.
Features:
110W Solar panel with 5 busbars and PERC (Passivated Emitter and Rear Contact) mono-crystalline cells; a special cell technology that increases module efficiency significantly over standard solar cells
Most brands use 2-4 busbars, more busbars means better efficiency and durability
Standard panels do not currently use PERC technology
Lightweight, durable, and perfect for mounting on moderately curved surfaces - offers up to 30° of flexibility
Easy-to-install using the six grommet holes provided or applying adhesives to mount the panel
3X Lighter compared to aluminum-framed glass panels
Extended lifespan with Ethylene-Tetra-Fluoro-Ethylene (ETFE) protection
2-Year product warranty
Electrical Data
Maximum power-Pmax at STC : 110W
Maximum power voltage-Vmp: 18.9V
Maximum power current-Imp: 5.83 Amps
Open circuit voltage-Voc: 23.3V
Short-circuit current-Isc: 5.95 Amps
Maximum system voltage: 600V
Maximum series fuse rating: 20 Amps
Mechanical Data
Cell type: Monocrystalline PERC
Top-layer: ETFE
Junction box IP rating: IP68
Connector type: MC4 - type
Number of cells: 36 (4 x 9)
Weight: 5.7lbs (2.6kg)
Dimensions: 39.6" x 26.9" x 0.12" (0.95" thick at junction box)
Temperature Data
Operating temperature: -40°C to +85°C
Temperature coefficients of Pmax: -0.38%/°C
Temperature coefficients of Voc: -0.36%/°C
Temperature coefficients of Isc: +0.07%/°C
Standard Test Conditions (STC): Irradiance: 1000W/m2, Cell Temperature: 25° C, Air Mass: 1.5
In the Box:
110W Solar Panel
Mounting Hardware
Xantrex 110W Flex Solar Panel Product Datasheet
WARNING
---
This product can expose you to chemicals which are known to the State of California to cause cancer, birth defects or other reproductive harm.
For more information go to www.p65warnings.ca.gov.
Part Numbers for Xantrex 110W Flex Solar Panel - No Controller - 781-0110