Waterway Guide - Western Gulf Coast - WGWGC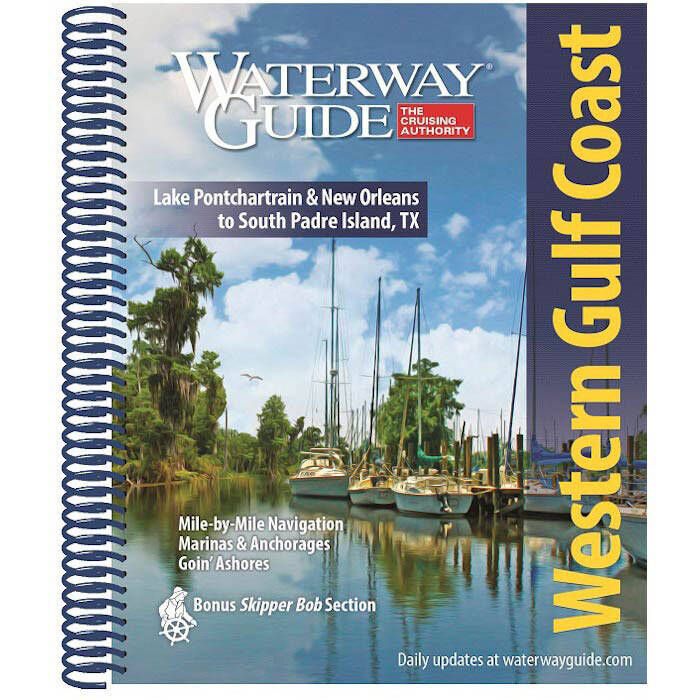 Waterway Guide - Western Gulf Coast - WGWGC
Item # 887348
Description
The Waterway Guide Western Gulf Coast is the indispensable cruising companion for boaters exploring the Western Gulf Coast from Lake Pontchartrain and New Orleans to South Padre Island on the Texas/Mexico border. This sturdy, easy-to-use guide provides helpful cruising data like navigation advice, NOAA chartlets, anchorage locations, marina listings, dockage advice and Goin' Ashore maps, along with the comprehensive Skipper's Handbook.
Features:
Updated annually by on-the-water cruising editors
Provides aerial photos with marked routes, marina listings and locator charts, anchorage information and detailed mile-by-mile navigation data along the way
Flexible spiral binding and heavy laminated covers ensure durability and easy use in the cockpit and at the helm
Simple and easy-to-use:

Each region is divided into sections and detailed chapters
Sections color coded for easy reference
Flexible spiral binding, heavy laminated covers, bookmark flaps ensure durability, easy use in cockpit, at helm

Clearly listed marina listings and locator charts:

Clearly labeled charts
Marina locator arrows
Marina amenities
Phone numbers
Internet, Wi-Fi internet capabilities
Fuel services and supplies

Complete with Bonus Skipper's Handbook — useful boating references:

Regional Coast Guard contact information
Port Security
Rules of the road, bridge basics, VHF communication, weather, going aground
Mail drops, insurance information
No-discharge zones
Charts and publications
Launch ramps
GPS Waypoints, tide tables and distance tables
Bridges — Distances, height, contact information, fixed or opening, opening schedule
Customs Information
Specifications:
Publisher: Dozier's Media Group
Publication Date: July 2019
Pages: 164
Spiral Bound
ISBN-13: 9781732514232
Dimensions: 10.6" x 8.5" x 0.7"
Part Numbers for Waterway Guide - Western Gulf Coast - WGWGC