Vesper Marine XB-6000 AIS Transponder with Built-in NMEA 2000 Bundle - XB-6000B2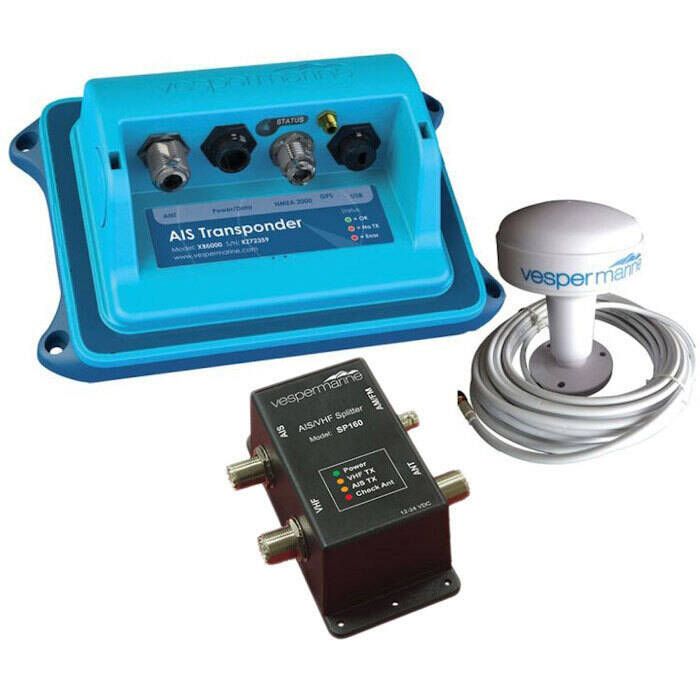 Vesper Marine XB-6000 AIS Transponder with Built-in NMEA 2000 Bundle - XB-6000B2
Item # 886908
Description
The high performance Class B AIS with built-in NMEA 2000 gateway and internal GPS, XB-6000 integrates AIS, GPS and NMEA information. System allow you to see your safety and navigation data on any AIS-capable chart plotter or MFD. Easily integrate AIS to your existing marine electronics and convert NMEA 2000 & 0183 instrument data to USB, facilitating 3rd party navigation software.
This package is designed for installing an XB-6000 AIS Transponder in a nav station or wheelhouse and allows you to share a single VHF antenna between your AIS transponder and VHF radio.
Features:
A NMEA 2000 Gateway- that translates NMEA 2000 instrument data (heading, wind, depth, speed, log, temperature) and routes it over USB and NMEA 0183.
GPS-Includes a powerful built-in 5 Hz built-in GPS antenna and also includes a 50 channel, external WAAS/EGNOS GPS antenna.
Features galvanically isolated (GI) ports that protect your transponder and marine equipment from high current damage
Fully Waterproof IPx7 rated
USB Connection (waterproof and locking with optional cable)-The USB connection can be used to connect the XB-6000 to on-board computers. The XB-6000 provides a GPS and AIS data feed directly to computer-based navigation software. It translates selected NMEA 2000 instrument data and sends that to your computer too. An optional 5 m (16') waterproof cable features a locking ring so it can't vibrate out of the back of the XB-6000.
Self Diagnosis Status Lights- Multi-color LED keeps you informed of operational status providing self diagnosis that shows warnings if AIS, GPS, or antenna are not functioning.
Ultra-low power consumption-Designed for minimal power consumption the WatchMate XB-6000 is extremely well suited for energy conscious vessels. The XB-6000 consumes less power than other AIS transponders even with the NMEA 2000 gateway operating.
Positive Identification- Vessel names and call signs will be readily available.
Silent Mode Control- With an optional external switch to control Silent mode, AIS Receivers and GPS continue normally, but transmissions are inhibited. Firmware updates-Designed to be compatible with continuous stream of feature updates, the XB6000 can be updated with your USB cord and your computer.
VHF / AIS Antenna Splitter Specifications:
Applications: All AIS Transponders and Receivers
Function: Enables AIS to Share a Single Antenna with VHF and AM/FM Radio
Power: 12 - 24 Volts DC, Includes Built-in Low Noise Amplifier
The Vesper Marine splitter is the only one that provides signal gain which improves AIS reception and increasing range. The built-in low noise amplifier is important in increasing the receive range from the increasing number of low power AIS SART and MOB devices.
The splitter is used to simplify installations by allowing a shared VHF antenna.
Transponder Specifications:
Size: 200 mm W x 130 mm H x 60 mm D (7 7/8" x 5 1/8" x 2 3/8")
Waterproof (IP67: submersible to 1m for 30 mins)
Operating temperature: > -25° C to +55° C (-13 °F to 131° F)
Power supply: 10-32 VDC, 2.5 W nominal
Number of receivers: 2 AIS, 1 DSC (timeshared)
Receive sensitivity: -113 dBm (<20% PER)
Number of transmitters: 1 AIS
Transmit power output: 33 dBm (2 W)
AIS Receive frequency range: 156.025 162.025 MHz
Transmit frequency range: 161.500 162.025 MHz AIS
GPS: 50 channel with internal antenna. Supports WAAS and EGNOS. Also includes external antenna
GPS navigation rate: Selectable 1 Hz or 5 Hz with magnetic variation included in output
GPS sensitivity: -159 dBm tracking & navigation -142dBm acquisition (cold start)
GPS accuracy: Position 2.5 m CEP, SBAS 2.0 m CEP
VHF antenna required: >50 ohm, max 2:1 VSWR @ 162MHz, PL259 connector
Serial data: 1 fully isolated USB port (mini), 1 isolated NMEA 0183 input (RS422 4800/38400 baud) 1 NMEA 0183 output (RS422 4800/38400 baud)
Connectivity : NMEA 2000, NMEA 0183, USB
NMEA 2000: NMEA 2000 certified. LEN 2. Micro-C male connector. Female drop cable required (not included).
Warranty: Two year world-wide warranty
Splitter Specifications:
Frequency Range: 156 MHz to 163 MHz
Operating temperature: -25° C to +55° C (-13° F to 131° F)
Environmental: Watertight (USCG CFR-46, IPx7)
Power Supply: 10-32 VDC, <0.8 W nominal
Overall Size: 135mm Long x 107 Wide x 56 Deep (5 5/16" x 4 1/4" x 2 1/4") (includes connectors)
Maximum VHF power: 25 W
Maximum AIS power: 12.5 W
Compatibility: Fully compatible with all Vesper Marine AIS transponders and receivers. Also compatible with other manufacturer's AIS receivers and transponders and will typically increase their performance
VHF & AIS Connectors: SO-239 (UHF). Requires two appropriate length standard 50 ohm patch cables with PL-259 plugs (two 2 m (6.5 ft) cables included)
AM / FM Connector: BNC, optional 2 m (6') cable available BNC to Motorola plug
Patch Cable: Two provided as standard. 2m (6.5ft) long 50 ω cable with PL259 connectors
Insertion Loss: VHF RX <1.5dB / VHF TX <1dB / AIS TX <1 dB
AIS Receive Gain: 12 dB
AIS Sensitivity with Vesper Marine transponders: -119 dBm, 6 dB improvement
In the Box:
XB6000 AIS Black Box
GPS Antenna with 10 m (33 ft) cable
2 m (6.5 ft) power/data cable
1 m (3 ft) USB cable
AIS VHF antenna splitter
2 m (6.5') Power cable
Two 2 m (6.5') PL259 patch cables
Installation Guide
Click Here to See the Brochure for this Product (1.13 MB)
Click Here to See the Installation Guide for this Product (1.22 MB)
Part Numbers for Vesper Marine XB-6000 AIS Transponder with Built-in NMEA 2000 Bundle - XB-6000B2