Vesper Marine AIS Transponder with Built-in Wifi - XB8000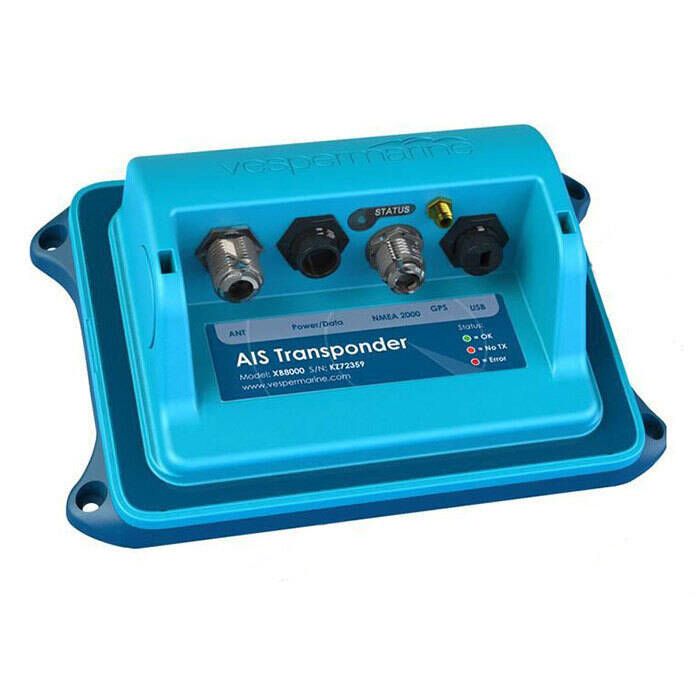 Vesper Marine AIS Transponder with Built-in Wifi - XB8000
Item # 886900
Description
The Vesper Marine XB-8000 AIS Transponder has a built-in WiFi router and a NMEA 2000® & 0183 gateway, and integrates AIS, GPS and NMEA information to see safety and navigation on your boat via tablet, mobile device or PC. It includes a powerful external GPS antenna and has a fast 5Hz GPS update rate. Tis unit also has galvanically isolated (GI) ports that protect your transponder and marine equipment from high current damage. This is a great product for any boater needing a low power consumption, low profile, Class B AIS transponder with WiFi, NMEA 2000 / 0183 and USB connections.
Features:
Anchor watch -When dropping anchor, activate the anchor watch from your smartphone, tablet or a wired switch. The XB-8000 monitors the GPS position and triggers the alarm if you drift outside a circular zone configured around your anchor position
AIS Man Overboard (MOB) alarm -Automatically triggers an external alarm whenever an AIS MOB is detected. Silently and continuously on-watch for all your crew. Works with all AIS MOB devices from any manufacturer (not included)
Connect wirelessly to other devices using WiFi 802.11 b/g -Secure WiFi connection for up to five devices simultaneously
Fully certified NMEA 2000 -Ensures easy integration with any other NMEA 2000 equipment. You can confidently use the XB-8000 with any chart plotter by all the major manufacturers
Translates and routes your NMEA instrument data over WiFi
Interact with a variety of standard applications on iPad and Android tablets -Remotely access AIS information on other applications via smart devices
High performance AIS Transponder - The XB-8000 is an AIS transponder with two channel parallel receiver and transmitter. This highly sensitive transponder means greater range and increased safety. Connects to 12 or 24V power supply
Very Low Power Consumption
Fully Waterproof - Rated IPx7 which means it is totally submersible to 1m for up to 30 mins!
USB Connection (waterproof and locking with optional cable) - The optional 5m (16') waterproof cable features a locking ring so it can't vibrate out of the back of the XB-8000
GPS receiver - Built-in 50 channel GPS receiver (with WAAS/EGNOS). The external antenna can be pole mounted on standard 1" threaded tubing or mounted on a flat surface with the included base
Silent Mode Control via iPhone, iPad, Android, PC, Mac or an external switch -Silent mode can be controlled by an external switch (not included) or via WiFi from your PC, Mac, iPhone, iPad, or Android phone or tablet
Self Diagnosis Status Lights - Multi-color LED keeps you informed of operational status providing self diagnosis that shows warnings if AIS, GPS, or antenna are not functioning
Specifications:
Dimensions: 200 mm (w) x 130 mm (h) x 60 mm (d) (7-7/8" x 5-1/8" x 2-3/8")
Power: 10-32 VDC 2A max, 3W nominal
Waterproof Rating: IPX7
Operating Temp: -25°C to +55°C (-13°F to 131°F)
Storage Temp: -25°C to +80°C (-13°F to 176°F)
Number of Receivers: 2 AIS, 1 DSC (timeshared)
Number of Transmitters: 1 AIS
Receive Freq. Range: 156.025 162.025 MHz
Transmit Freq. Range: 161.500 162.025 MHz
AIS Sensitivity: -113 dBm < 20% PER
Power Output: 33 dBm (2W)
GPS Sensitivity:

-159 dBm tracking & navigation
-142 dBm acquisition

Ports:

Serial Data: 1 USB port (isolated)
1 NMEA input (isolated RS422)
1 NMEA output (RS422)
Note: Vesper continually provides free updates for any upgrades or improvements made to their product, so you can be assured of the latest and greatest features.
How does the XB-8000 compare to the competition?
Part Numbers for Vesper Marine AIS Transponder with Built-in Wifi - XB8000