Venture Single-Axle Galvanized Bunk Trailer - 2023 - VB-1800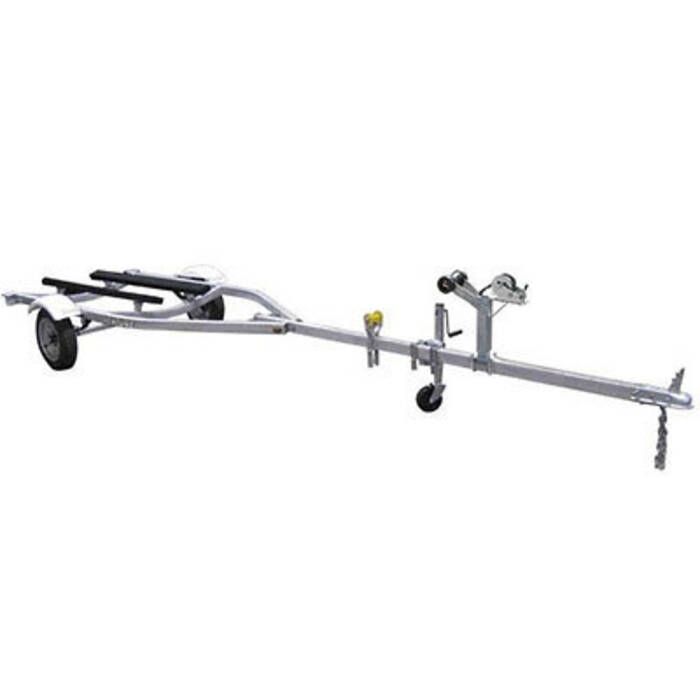 Venture Single-Axle Galvanized Bunk Trailer - 2023 - VB-1800
Item # 957580
Description
Venture Single-Axle Galvanized Bunk Trailer
Features:
Bunk-type trailer recommended for boats 15' to 16' in length
Single-axle trailer offers outstanding maneuverability
Hot-dipped galvanized finish provides exceptional corrosion protection
2-Year limited warranty
Specifications:
Trailer Type: Bunk
Number of Axles: 1
Load Capacity: 1800 lbs
Application: Boats 15' to 16'
Material/Finish: Galvanized steel
Overall Length: 19' 2"
Overall Width: 6' 6"
Width Between Fenders: 5' 0"
Length Bow Eye to Transom: 16' 6" max./10' 6" min.
Gross Vehicle Weight Rating (GVWR): 2230 lbs
Brakes: No
Coupler Size: 2"
Tire Size: 5.30 x 12 LRD 5H
Tongue Jack
LED Lights
Regulatory: NMMA certified
Note: Bunk trailers are recommended for boaters who load and launch less frequently, or who launch where there is little tidal influence. Bunk trailers offer excellent hull support for long-term storage.
Part Numbers for Venture Single-Axle Galvanized Bunk Trailer - 2023 - VB-1800