Venture Single-Axle Aluminum Watercraft Trailer - 2023 - VAW-1200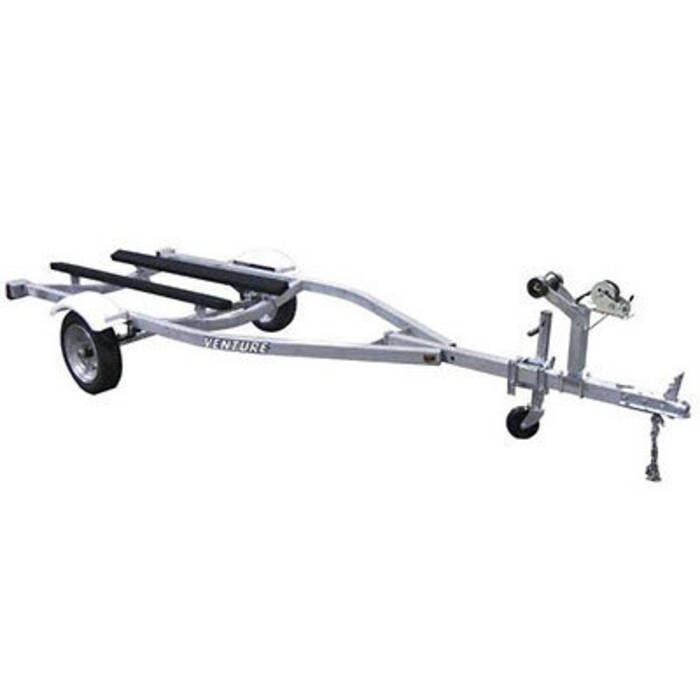 Venture Single-Axle Aluminum Watercraft Trailer - 2023 - VAW-1200
Item # 957581
Description
Venture Single-Axle Aluminum Watercraft Trailer
Features:
Bunk-type trailer recommended for small RIBs or 2 - 3 seat personal watercraft (PWC)
Single-axle aluminum trailer offers light weight, corrosion protection, outstanding maneuverability, and accessible maintenance
2-Year limited warranty
Specifications:
Trailer Type: Bunk
Number of Axles: 1
Load Capacity: 1200 lbs
Application: Small RIBs or 2 to 3-seat personal watercraft
Material/Finish: Aluminum
Overall Length: 14' 8"
Overall Width: 5' 0"
Width Between Fenders: 3' 6"
Gross Vehicle Weight Rating (GVWR): 1430 lbs
Brakes: No
Coupler Size: 2"
Tire Size: 4.80 x 12 LRC 4H
Tongue Jack
LED Lights
Regulatory: NMMA certified
Note: Crossbars are straight not curved. Bunk trailers are recommended for boaters who load and launch less frequently, or who launch where there is little tidal influence. Bunk trailers offer excellent hull support for long-term storage.
Part Numbers for Venture Single-Axle Aluminum Watercraft Trailer - 2023 - VAW-1200