TRiB airCap Replacement Air Valve Cap with LED Pressure Readout Display - 100-001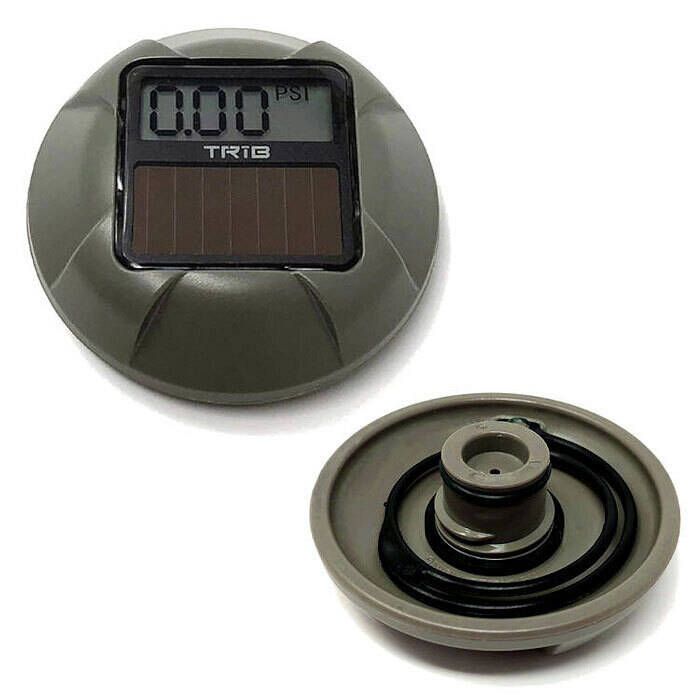 TRiB airCap Replacement Air Valve Cap with LED Pressure Readout Display - 100-001
Item # 886237
Description
The #1 cause of problems with an inflatable boat is under-inflation. Topping off your boat before use will prevent damage to your investment. Failure of seat patches, flooring, transom attachments and even seams can occur with improper inflation.
But now, the TR&imacrB (pronounced tribe) airCap replacement air valve cap pressure gauge helps you maintain optimum air pressure with a constant readout of pressure right on your valve cap.
Two models of the airCap are available: one for Leafield C7/D7 valves and one for Halkey-Roberts and similar valves. They both measure up to 20 PSI making them ideal for a range of inflatable craft including rafts, IKs, SUPs and RIBs.
The airCap features a solar-powered, highly accurate, digital LED readout that displays well in full sunlight and in low-light conditions for those dawn and dusk outings. And a headlamp or flashlight will provide enough light to power your airCap. The airCap is sealed and water resistant.
The 100-004 Halkey-Roberts model has an optional audible alarm that can be turned on or off and is triggered when pressure has reached unsafe levels. The 100-001 Leafield C7/D7 model does not have the alarm option.
Which Trib airCap is right for me?
Images below show Leafield C7/D7 and Halkey-Roberts style valves.
Features:
Trib airCap 100-001 is designed to replace the valve cap on your inflatable's existing Leafield C7/D7 inflation valve
High-visibility, easy-to-read LCD displays pressure to one-hundredth of a PSI
airCap displays inflation pressure whenever suitable light source is present
Performs in low-light at dusk, dawn and by headlamp

airCap will operate in most light conditions, even when it is cloudy or overcast
If it is necessary to operate airCap after dark, a headlamp or flashlight will provide enough light to power your airCap

airCap is rugged, fully sealed, ready for extreme boating adventures
Solar powered; no batteries or parts to replace
Pressure Range airCap will read to pressures of 20 PSI (138 kPa, 1.38 Bar)

Above 20 PSI, airCap displays "OP" to alert the user that the watercraft is over pressure
Operation in over pressure condition is not recommended and could damage your airCap and your inflatable boat or SUP

Avoid abrasive surfaces contacting your airCap, especially on lens
airCap can be left attached to your inflatable or removed when watercraft is in storage
Specifications:
Pressure accurately measures up to 20 PSI
Overpressure alarm airCap

No alarm option on LF model

Pressure display units: (PSI, kPa, Bar)
Low-Light Operation: Display visible at dusk, dawn, under headlamp
Water Resistance: Sealed, submersible
Durability: Long, battery-free life
Diameter: 2.8"
Part Numbers for TRiB airCap Replacement Air Valve Cap with LED Pressure Readout Display - 100-001