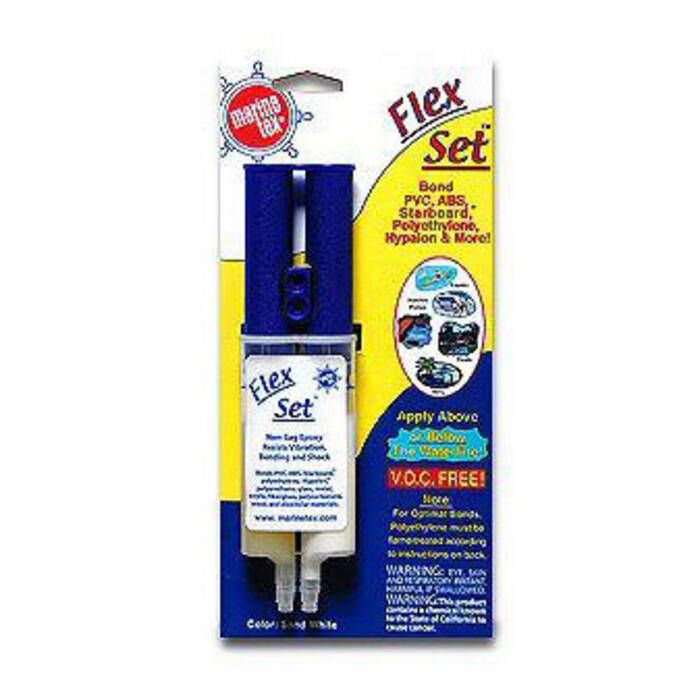 Travaco Marine-Tex FlexSet - RM321K
Item # 886232
Description
Marine-Tex FlexSet is a non-sagging, non-shrinking, permanently flexible epoxy adhesive.
Features:
Sandable and paintable
FlexSet resists vibration and bending failures by curing to a tough, flexible consistency that creates an air and watertight seal between mating surfaces
Bonds to:

Polyethylene Starboard & Marine Lumber
PVC
Hypalon®
Ceramic
Rubber
Polyurethane
Glass
Acrylic
Steel
Fiberglass
Polycarbonate
Wood
ABS
Aluminum
Lexan®
Dissimilar materials

Apply above or below the waterline, in wet or dry areas.
Bonds dissimilar materials like PVC to copper.
FlexSet outperforms PVC Cement! Because of the vibration and shock resistance,
FlexSet is highly recommended for PVC pipe repairs.
As bonded joints shrink and expand, the FlexSet moves with them. Therefore, it won't crack or break from the surface.
Working time is 15-30 minutes, material will set in 1-2 hours, full cure in 24 hours at 72°F. Expect longer cure times at lower temperatures.
Hundreds of Uses:

Bond and seal deck and hull joints
Bond, adhere and repair Polyethylene Starboard & Marine Lumber
Make underwater repairs
Install thru-hull fittings
Attach rub-rails and wood trim
Protect electrical insulation from moisture
Bond ABS, Lexan® and other "difficult materials"
Directly attach PVC fittings to unthreaded metal pipe
Repair inflatable boats, wet or dry, made from PVC, Hypalon®, polyurethane
Bond wood, metal, plastic, fiberglass and more to inflatable fabric
Fix RV trim, tanks, skylights, roof, drains
Repair swimming pool liners and covers, grout leaks, skimmers, stainless filters, plumbing, and drains
Mend diving suits and gear, spa covers, spa shells or exterior wood
Fix camping tents, shoes, tools, ponds, fountains, waterfalls, masonry, landscaping materials
WARNING
---
This product can expose you to chemicals which are known to the State of California to cause cancer, birth defects or other reproductive harm.
For more information go to www.p65warnings.ca.gov.
Part Numbers for Travaco Marine-Tex FlexSet - RM321K