Torqeedo Cruise 6.0 Fixed Pod Electric Motor - Torqlink - 1269-00
For a limited time only: the hazardous shipping charge (value = $58.00) will be waved. Discount applied on the cart and checkout page.
Torqeedo Shipping Promo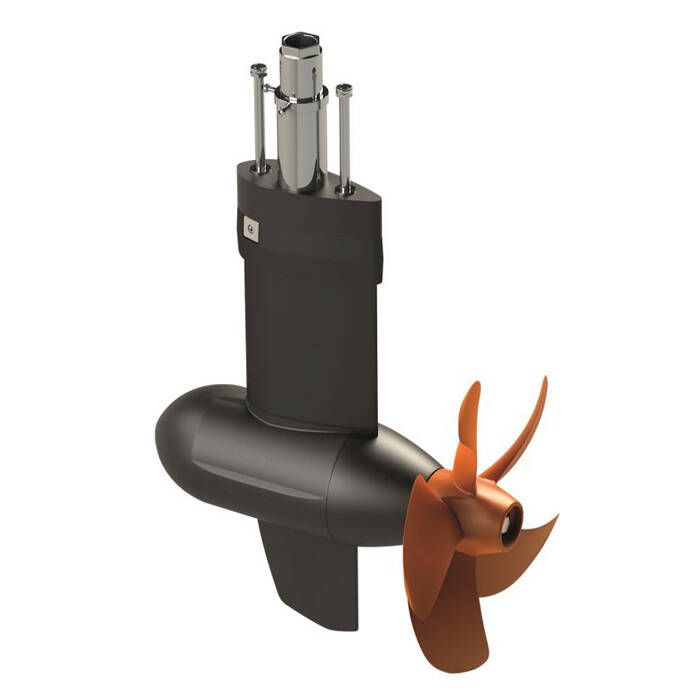 Torqeedo Cruise 6.0 Fixed Pod Electric Motor - Torqlink - 1269-00
Item # 886132
Description
Features:
Aluminum Reinforced Fixed Position Pod Drive, Robust Design
Recommended for Sailboats up to 6 tons
Gas Outboard Equivalent: 9.9 HP
Forward/Neutral/Reverse drive
Onboard Computer and Display with GPS-Calculated range and runtime

When used in combination with a Torqeedo Power Battery you get a Real Time Display of Speed, Input Power, Exact Battery Status and Remaining Range

Operates with Lithium or AGM/Lead-Gel Batteries (Sold Separately)
TorqLink Data Interface - enables fast data exchange between TorqLink components without gateway
Specifications:
Engine Type: Electric - 48V
Remote (Remote Throttle Not Included)
Weight: 32.4 lbs
Power Cable: 4.4 Meters
Gas Outboard Equivalent: 9.9 HP (Propulsive Power)
Gas Outboard Equivalent: 15 HP (Thrust)
Propulsive Power in Watts: 2,760
Static thrust: 230 lbs

Torqeedo static thrust measurement is based on internationally accepted ISO standards. Static thrust figures for conventional trolling motors are typically measured differently, which results in higher values. To compare Torqeedo static thrust data with conventional trolling motors, add approximately 50% to the Torqeedo static thrust values

RPM Range: Variable to 1,130
Standard Propeller: 3 Blade fiberglass reinforced polyamide
Waterproof (IPx9K outside the hull when completely assembled)
Requires 48V DC
Can be powered by (2) Torqeedo Power 24-3500 or (1) 48-5000
External Battery(s) are not included with this model
This model does not use an Internal battery
Optional Folding Propeller (Sold Separately)
Factory Warranty: 2 years. Warranty Begins on Date of Purchase.
Note: If using a power source other than the Torqeedo 24-3500 (x2) or 48-5000 Power Battery to power your Cruise, the actual percentage remaining, the remaining range and the runtime will be estimated. Only a Torqeedo Power Battery will communicate with your motor to give real time information.
Torqeedo Cruise 6.0 Fixed Pod Owner's Manual (2.80 MB)
Torqeedo Cruise 6.0 Fixed Pod Technical Data Sheet (1.16 MB)
WARNING
---
This product can expose you to chemicals which are known to the State of California to cause cancer, birth defects or other reproductive harm.
For more information go to www.p65warnings.ca.gov.
Part Numbers for Torqeedo Cruise 6.0 Fixed Pod Electric Motor - Torqlink - 1269-00