Tohatsu 9.9 HP Tiller Outboard Motor - MFS9.9 - 2022
$2,940.00 - $3,633.00
$2,457.00 - $3,032.00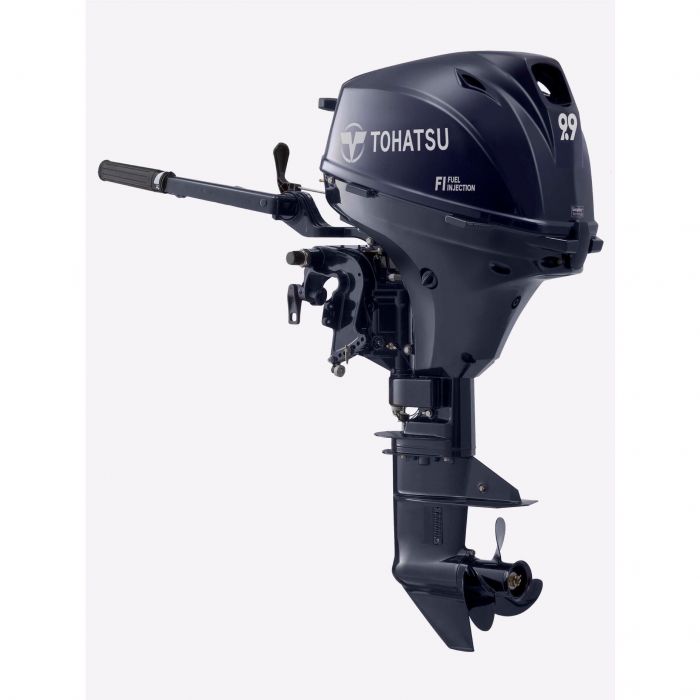 Tohatsu 9.9 HP Tiller Outboard Motor - MFS9.9 - 2022
Item # 951557
Description
New innovations allowed Tohatsu to introduce a new Electronic Fuel Injection (EFI) four stroke outboard to its lineup; meet the 9.9hp EFI Sport. The lightest weight outboard in its class features exceptional torque and top end speed so you can get where you need to go in a flash. The battery-less EFI system on the MFS9.9 offers superior starting performance as compared to previous carbureted models. Also, with an EFI outboard, no choke is required during start up and you'll notice smooth, crisp acceleration throughout all RPM ranges.
Features:
Forward, Neutral and Reverse with front mounted shift lever
Longer tiller handle
Large Fore and Aft Carry Handle
3-Way Storage Positions - (Stbd, Front and Port)
Thru prop exhaust
Single carburetor
Water cooled
0.29 Gal front fill integral fuel tank
Fuel connector for use with external tank
Color: White
Decompression Release: Automatic Decompression relief greatly reduces pulling force for effortless starting
Applications: Tohatsu's: 2.5 HP to 6 HP (excluding the 5 HP LPG) engines
Factory Warranty: 5 years
Specifications:
Engine Type: 4-Stroke
Propshaft HP: 6 HP
1-Cylinder
Control type: tiller
Rope or electric start
Tilt system: manual or power tilt
Shaft length: 15" or 20"
Weight (based on lightest model): 57 lbs
RPM Range: 5000-6000
Displacement: 7.5 cu. in. (123 cc)
Gear Ratio: 2.15:1
Standard Propeller: 3-Blade Aluminum (7.7" x 8")
Note: External tank and fuel line sold separately.
Part Numbers for Tohatsu 9.9 HP Tiller Outboard Motor - MFS9.9 - 2022