Tohatsu 6 HP Tiller Outboard Motor with External Tank - MFS6 Sail Pro - 2023
$1,908.00 - $2,080.00
$1,805.00 - $1,937.00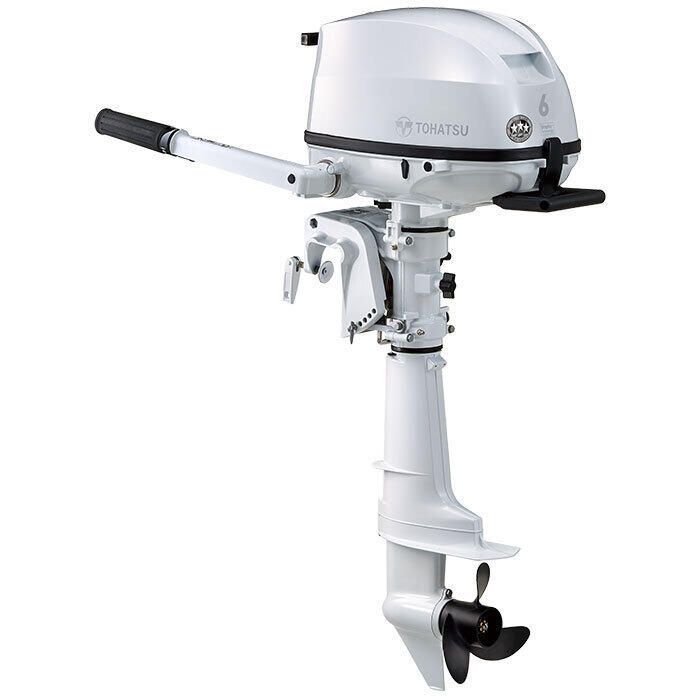 Tohatsu 6 HP Tiller Outboard Motor with External Tank - MFS6 Sail Pro - 2023
Item # 951550
Description
Features:
Forward, Neutral and Reverse with front mounted shift lever
Longer tiller handle
Large Fore and Aft Carry Handle
3-Way Storage Positions - (Stbd, Front and Port)
Thru prop exhaust
Single carburetor
Water cooled
0.29 Gal front fill integral fuel tank
Fuel connector for use with external tank
Color: White
Decompression Release: Automatic Decompression relief greatly reduces pulling force for effortless starting
Applications: Tohatsu's: 2.5 HP to 6 HP (excluding the 5 HP LPG) engines
Factory Warranty: 5 years
Specifications:
Engine Type: 4-Stroke
Propshaft HP: 6 HP
1-Cylinder
Control type: tiller
Rope Start
Shaft length: 20" or 25"
Weight (based on lightest model): 57 lbs
RPM Range: 5000-6000
Displacement: 7.5 cu. in. (123 cc)
Gear Ratio: 2.15:1
Standard Propeller: 3-Blade Aluminum (7.7" x 8")
Note: External tank and fuel line sold separately.
Part Numbers for Tohatsu 6 HP Tiller Outboard Motor with External Tank - MFS6 Sail Pro - 2023