Tohatsu 30 HP Remote Outboard Motor - MFS30 - 2023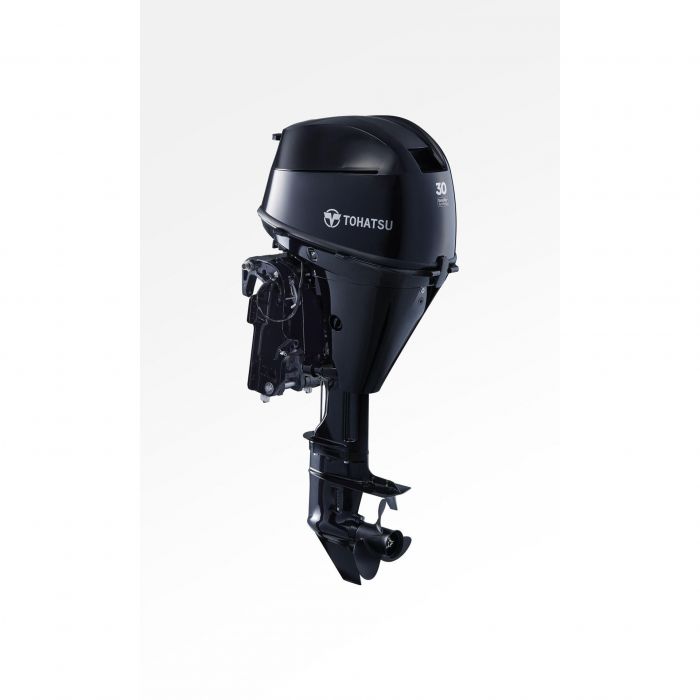 Tohatsu 30 HP Remote Outboard Motor - MFS30 - 2023
Item # 951575
Description
The MFS30 is designed for a wide variety of boat applications, such as Inflatable, RIB, Aluminum Fishing, FRP and/or Pontoon. Available in a wide variety of options, MFS30D will meet whatever configuration you need for your boat.
Tohatsu has achieved the lightest weight in its class and improved reliability, without sacrificing performance. Tohatsu strives to deliver a smarter and more exciting boating experience.
When you need compact power, the 30hp 4-stroke has exactly what you need.
Features:
Versatile and lightest 3 cylinder 30 HP
All new sleek design with two color options: Aqua Marine Blue and Beluga White
Available in variety of model-types; S, L, ES, EL, ETS, and ETL with Basic Tiller, Multi-function tiller, or Remote control
Best in class power-to-weight ratio provides excellent performance for all styles of boats from light weight to heavy weight
Advanced cross-flow induction for smooth operation
Ultra Low emission, EPA and CARB approved
Optimized gear ratio 2.17:1 gives you better low end torque and the ability to turn a higher pitch prop for better top end performance
Battery-less manual start Electronic Fuel Injection 4-stroke
Digital CD ignition system for quicker starts
High output 17.5A alternator
Adjustable steering friction and trim tab for reducing steering effort
Manual tilt models are equipped with shallow water drive, 6 tilt positions
Built in fresh water flush system on drive shaft housing for easy access
No-mess oil filter drip pan located underneath the engine oil filter
Tool-free clear fuel filter with floating indicator ring provides detection of water in the fuel system and allows quick and easy service
Through-the-prop exhaust for a quieter ride
Thermostatically controlled cooling system for consistent engine temperature
Stainless steel water pump housing liner for outstanding durability
High grade marine aluminum alloy that provides the ultimate protection against corrosion
Zinc coating on internal water passages for superior corrosion resistance
Aluminum propeller
Overheat warning (audible and visual)
Low oil pressure warning (audible and visual)
Safety lanyard (an essential protection feature standard on all Tohatsu outboards)
Start-in-gear protection for safer engine starting
Over-rev. limiter (audible and visual)
Specifications:
Engine: 4 Stroke 3 Cylinder
Output: 30 HP (22.1 kW)
Displacement: 500 cc (30.5 cu.in.)
Bore x Stroke: 61 x 57 mm (2.4" x 2.25")
Control Type: Remote Control
Gear Shift: Forward - Neutral - Reverse
Gear Ratio: 2.17:1 (12:26)
Shaft length: 15"or 20"
Fuel: Unleaded Gasoline (87 Octane)
Oil Type: NMMA Certified FC-W 4-stroke oil SAE 10W-30/40 (SF, SG, SH, SJ)
Oil Capacity: 1.7L (1.8 qt)
Weight (lightest model): 58 kg (128 lbs)
Alternator Output: 12V, 210W, 17.5A
Max. RPM Range: 5,500 - 6,500
Electronic Fuel Injection: Standard
Digital CD Ignition System: Standard
Start In Gear Protection: Standard
Thermostat Controlled Cooling System: Standard
Through-The-Prop Exhaust: Standard
Overheat Buzzer: Standard
Oil Pressure Warning: Standard
Variable Idle Speed: Standard
Shallow Water Drive: Standard
Factory Warranty: 5 years. Warranty begins on date of purchase.
Notes: Fuel tank and fuel line not included. Standard propeller sold separately.
Part Numbers for Tohatsu 30 HP Remote Outboard Motor - MFS30 - 2023