Tohatsu 25 HP Tiller Outboard Motor - Rescue Pro PumpJet - 2023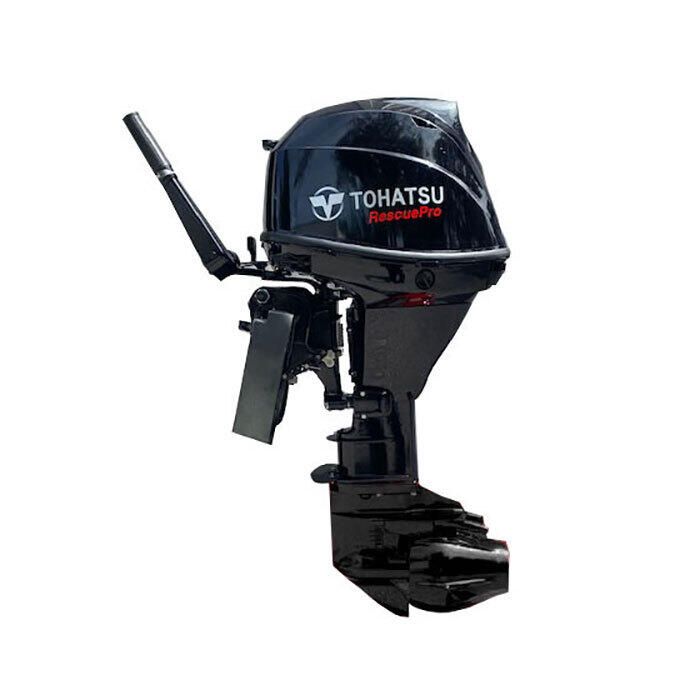 Tohatsu 25 HP Tiller Outboard Motor - Rescue Pro PumpJet - 2023
Item # 951573
Description
Features:
Forward, Neutral and Reverse shift
Operates as a convential propeller driven outboard would
Inlet Entry Protection
Restricts debris from entering Pump Jet
Protected Rotor (Fully Enclosed)
Protection for people in the water along with wildlife
Protects Stator from accidental impacts with underwater debris
Water cooled
Uses factory (Tohatsu) waterpump
Alternator Output: 17.5A
Fuel Line and Tank Included
Owner's Manual with Basic Tool Kit
Specifications:
Engine Type: 4-Stroke SOHC
Propshaft HP: 25 HP EFI
3-Cylinder engine
6 Valves (2 per cylinder)
Weight (based on lightest model): 138 lbs
RPM Range: 5000-6000
Displacement: 30.5 cu. in.(500 cc)
Gear Ratio: 2.17:1
Control type: Tiller (Standard Tiller Arm Installed)
Pump Jet Warranty: 5 years
Engine Factory Warrranty: 5 years. Warranty Begins on Date of Purchase.
Commercial Warranty: 1 year. Warranty Begins on Date of Purchase.
Part Numbers for Tohatsu 25 HP Tiller Outboard Motor - Rescue Pro PumpJet - 2023