Tohatsu 2.5 HP Tiller Outboard Motor - MFS2.5 - 2023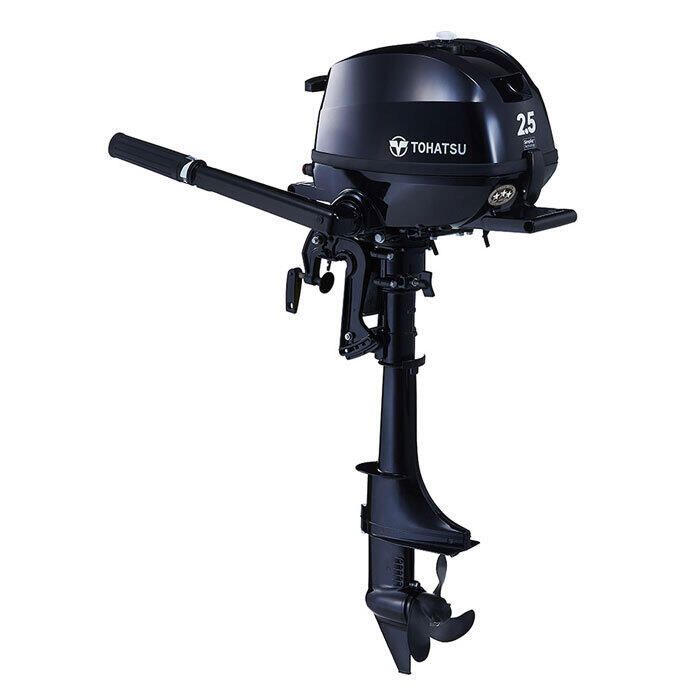 Tohatsu 2.5 HP Tiller Outboard Motor - MFS2.5 - 2023
Item # 951536
Description
This portable best-seller has been upgraded with newly designed top and bottom cowl based on the Tohatsu Design Philosophy for Marine Products using Simpliq™ Technology with ergonomically designed front and back carrying handles. In addition, you can now store your engine in 3 different positions without worrying about oil spillage. The 2.5 HP Tohatsu 4-stroke is the perfect outboard for a small canoe, dinghy, or sailboat. This compact outboard has the largest displacement block in its class, giving you the utmost power in a small package.
Features:
Ergonomically designed new Large Front & Back Carrying Handles which allow easier carry and transportation from having one handle positioned slightly below another
3-way storage positions (Port, Front & Starboard side down) without worrying about oil spill
This Tohatsu patented powerhead design is tilted 15 deg. to the right inside the lower motor cover to create a compact top cowling design and also help with portability
The twist type throttle control is provided on the steering handle for quick steering as well as one-handed operation to assure your safety
The outboard can be turned to any direction, up to 360 deg. for simple steering that is needed for small boats
Conveniently located on the side of the motor, the oil level sight- gauge makes it easy to check the oil level without having to remove the cowling
The specifically designed motor mounting system efficiently absorbs vibration at all rpm ranges
Newly designed top and bottom cowls based on Tohatsu Design Philosophy for Marine Products
3-way storage positions without worrying about oil spill
Newly designed front and back carrying handles for easier transportation
Water cooled and thermostatically controlled cooling system for consistent engine temperature
Digital CD ignition system for easier starting, quicker throttle response and smoother trolling
Forward-neutral shifting with 360° steering
Easy to check oil level gauge indicator located on the engine's side
Light and compact
Ultra-low emission, EPA and CARB 3-Star rating approved
Specifications:
Engine (No. of Cylinder): 1
Output: 2.5 HP (1.8 kw)
Displacement: 85.5 cc (5.2 cu.in.)
Bore x Stroke: 55 x 36 mm (2.17 x 1.42 in)
Control Type: Tiller Handle
Gear Shift: Forward - Neutral
Gear Ratio: 2.15:1
Fuel: Unleaded Gasoline (87 Octane)
Oil Type: NMMA Certified FC-W® 4-stroke oil SAE 10W-30/40 (SF, SG, SH, SJ)
Oil Capacity: 10 oz (300 ml)
Fuel Tank: 0.26 gal (1 L) integral tank
Weight (lightest avialable model): 41 lbs (18.4 kg)
Max. RPM Range: 4,500 - 5,500
Digital CD Ignition System: Standard
Thermostat Controlled Cooling System: Standard
Factory Warranty: 5 years. Warranty begins on date of purchase.
Part Numbers for Tohatsu 2.5 HP Tiller Outboard Motor - MFS2.5 - 2023