Superior Life-Saving Equipment 6-Person/Valise Coastal Surge Life Raft - CS-6HV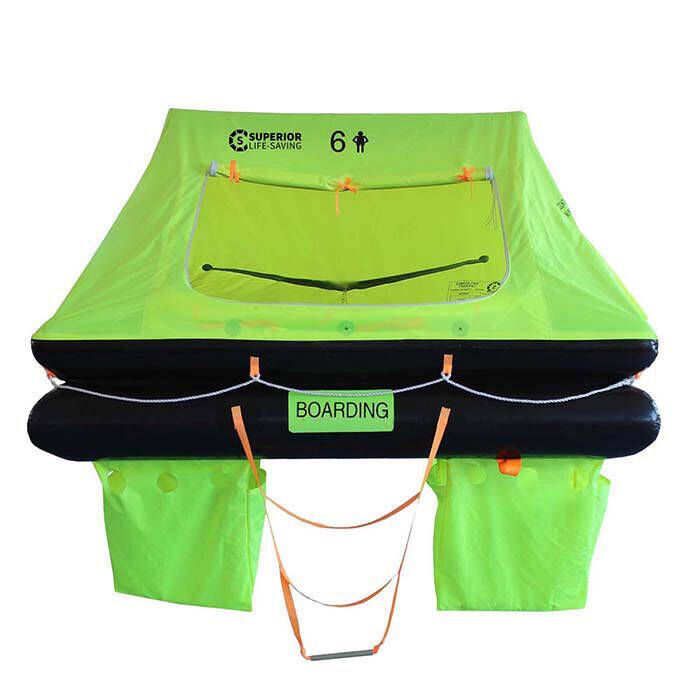 Superior Life-Saving Equipment 6-Person/Valise Coastal Surge Life Raft - CS-6HV
Item # 885109
Description
The Superior Lifesaving Equipment's Coastal Surge Life Raft was designed for the everyday boater. Whether you're fishing, sailing or cruising, rest assured that your crew will be safe and secure while awaiting rescue. With dual, over-sized buoyancy tubes, ample floor space and the most visible canopy on the market, the Coastal Surge is a versatile solution for coastal boaters.
Features:
Industry-leading, 4-square-feet per passenger
Fluorescent safety green canopy
Over-sized inflatable buoyancy tubes
Weighted, automatically deployed ballast pockets
Automatically deployed boarding ladder
Sea anchor and buoyant rescue ring included
Rainwater collector
Sealable viewing and ventilation port
Vacuum sealed for protection against the elements
Specifications:
Color: Green
Application: Coastal
Capacity: 6 People
Equipment Includes:
Survival handbook
2 USCG/SOLAS-Approved red hand flares
First aid kit
Topping up pump
Signal mirror
Rescue whistle
Sea sickness tablets
Sea sickness bags
Waterproof flashlight with spare bulb, spare batteries
2 Sponges
2 Paddles
Buoyant knife
Buoyant bailer
Repair kit
Note: 6-person model shown.
Part Numbers for Superior Life-Saving Equipment 6-Person/Valise Coastal Surge Life Raft - CS-6HV