Superior Life-Saving Equipment 6-Person/Hard Case Offshore Stream Life Raft - OS6-HC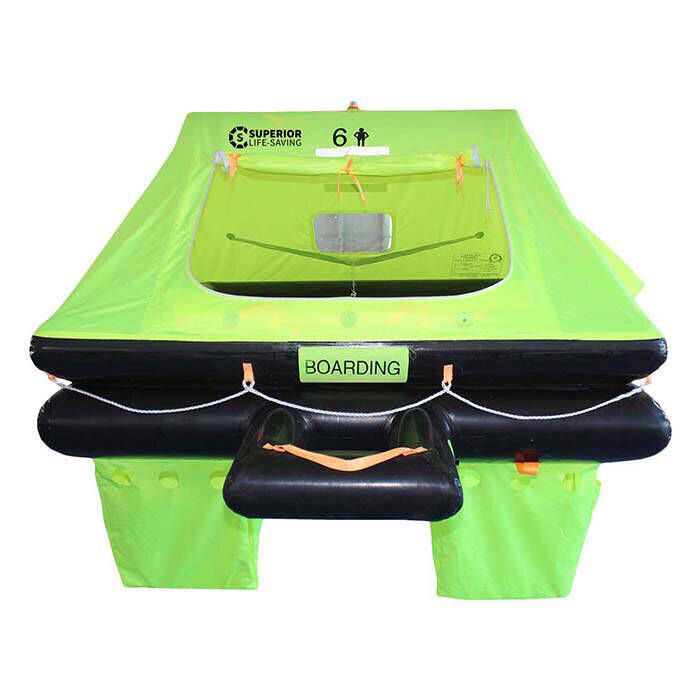 Superior Life-Saving Equipment 6-Person/Hard Case Offshore Stream Life Raft - OS6-HC
Item # 885107
Description
Superior Lifesaving Equipment's Offshore Stream Life Raft is the quintessential offshore life raft, suitable for any recreational boater looking to travel beyond the coastline.
The Offshore Stream provides an industry-leading, 4-square-feet of space per passenger. Coupled with an insulated floor and the most visible canopy on the market, the Offshore Stream provides the balance and security needed for all offshore boating enthusiasts.
An automatic inflatable ramp, internal boarding ladder and automatically deployed over-sized ballast system ease embarkation for passengers. The offshore Stream is available in 4, 6 and 8-passenger capacity and offered in a fiberglass container or vinyl soft pack. Multiple viewing ports, SOLAS-grade reflective tape, automatic canopy strobe light and offshore equipment pack make the Offshore Stream an excellent option for the blue water boater.
Features:
Industry-leading, 4-square-feet per passenger
Fluorescent safety green canopy
Over-sized inflatable buoyancy tubes
Weighted, automatically deployed ballast pockets
Reflective tape and automatically activated canopy light
Inflatable boarding ramp and internal boarding ladder
Rainwater collector
Sea anchor and buoyant rescue ring
Sealable viewing and ventilation port
Insulated floor for protection from hypothermia
Vacuum sealed for protection against the elements
Specifications:
Hard Case Dimensions: 30" x 21" x 13"
Weight: 90 lbs
Offshore equipment pack:
Survival handbook
Food, water rations
2 USCG/SOLAS-Approved red hand flares
1 USCG/SOLAS-Approved parachute flare
First aid kit
Topping-up pump
Signal mirror
Rescue whistle
Sea Sickness tablets
Sea Sickness bags
Flashlight with spare bulb, spare batteries
2 Sponges
2 Paddles
Buoyant knife
Repair kit
Fishing kit
Note: 6-person model shown.
Part Numbers for Superior Life-Saving Equipment 6-Person/Hard Case Offshore Stream Life Raft - OS6-HC