Standard Horizon Matrix GX2000 Fixed-Mount VHF Radio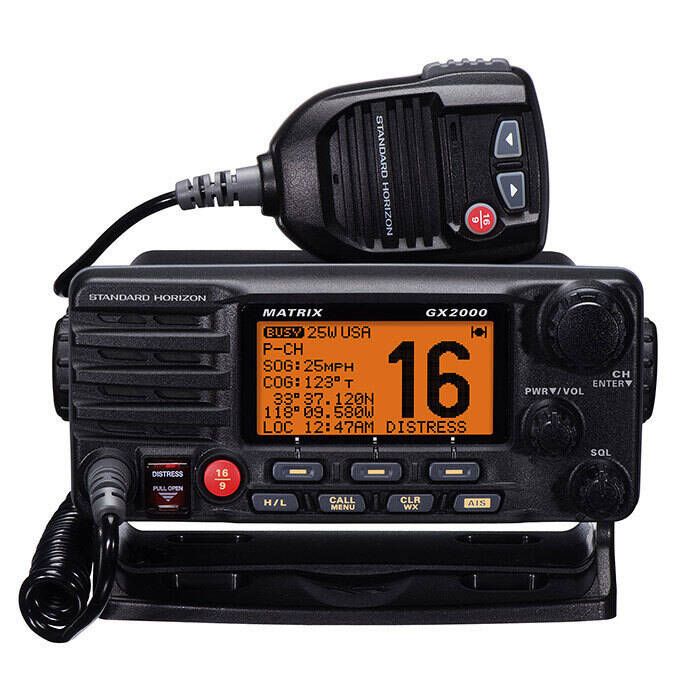 Standard Horizon Matrix GX2000 Fixed-Mount VHF Radio
Item # 884407
Description
The GX2000 Matrix Fixed-Mount VHF Radio is the perfect radio of choice for mariners who already have an AIS transponder or AIS black box receiver onboard. The Matrix will display AIS MMSI, Call Sign, Ship Name, BRG, DST, SOG and COG and will allow you to contact an AIS Ship directly using DSC, show your vessels position in relation to AIS targets and alert you when an AIS ship may be approaching to close to your location via the Closest Point of Approach (CPA) Alarm.
Features:
Fixed-mount VHF radio designed for boaters who already have external AIS and GPS onboard
GPS and AIS connection-ready

When connected to external GPS antenna (optional / sold separately), GX2000 offers: Navigation (LAT/LON, Time, SOG, and COG) on display; Enter, Save and Navigate to waypoints with Compass page; Navigate to DSC Distress Position
When connected to external AIS receiver or transceiver (optional / sold separately) GX2000 offers: Contact AIS Ship with DSC; AIS target display (MMSI, Call Sign, Ship Name, BRG, DST, SOG and COG); CPA (Closest Point of Approach) alarm

Navigate to waypoints

Capable of entering and saving up to 100 waypoints
Waypoints can be selected and navigated to by using compass display that shows vessel SOG, COG, BRG and DST to waypoint when connected to external GPS receiver (optional / sold separately)

Operates on all allocated marine channels switchable for USA, Canadian and International regulations
NOAA weather channel selection with Weather Alert
Microphone with noise reduction technology eliminates unwanted background wind and engine noise
GX2000 includes 30W loudhailer with pre-programmed fog signals (requires hailer horn for broadcast)
Oversized rotary channel knob with push-to-enter, backlit LCD display and customizable soft keys for easy menu operation
Remote-Mic capable can control all VHF, DSC functions from a second station
Intercom capable between radio and second-station remote access mic
Class D Digital Selective Calling (DSC) with separate Channel 70 receiver, which allows DSC calls to be received even when listening to communications
DSC position request and report functions when connected to compatible external GPS chartplotter (optional)
Automatically poll GPS position of up to 4 ships using DSC
Programmable scan, priority scan and dual watch operation
3-Year warranty
3-Year Warranty: If your Standard Horizon MATRIX ever fails for any reason (including water damage) during normal use for the first 3 years of ownership, STANDARD HORIZON will repair or replace it free, without hassles or charges. If it fails for anytime thereafter in normal use, for as long as the original purchaser owns the radio, it is covered by Standard Horizon's Lifetime Flat Rate Service and Customer Loyalty Programs.
Specifications:
Transmitter Output Power: 25W or 1W (user selectable)
Receiver Frequency Range: 156.05 to 162.000 MHz
Usable Channels: USA, CAN, INT, NOAA weather channels
Input Voltage: 13.8V DC
Current Draw (at max. audio output): 5.0 Amps (transmit) / 0.8 Amp (receive)
Operating Temperature Range: -4°F to +140°F
Ingress Protection: IPX7 (submersible to depth of 3.3 ft. for 30 minutes)
Mount: Bracket (included) or flush mount (cut-out: 6.3" x 2.6")
Dimensions (transceiver): 7.1" W x 3.1" H x 6.3" D
In the Box:
GX2000 VHF transceiver with handheld microphone
Mounting bracket and hardware
Power cord
Flush mount template
Part Numbers for Standard Horizon Matrix GX2000 Fixed-Mount VHF Radio