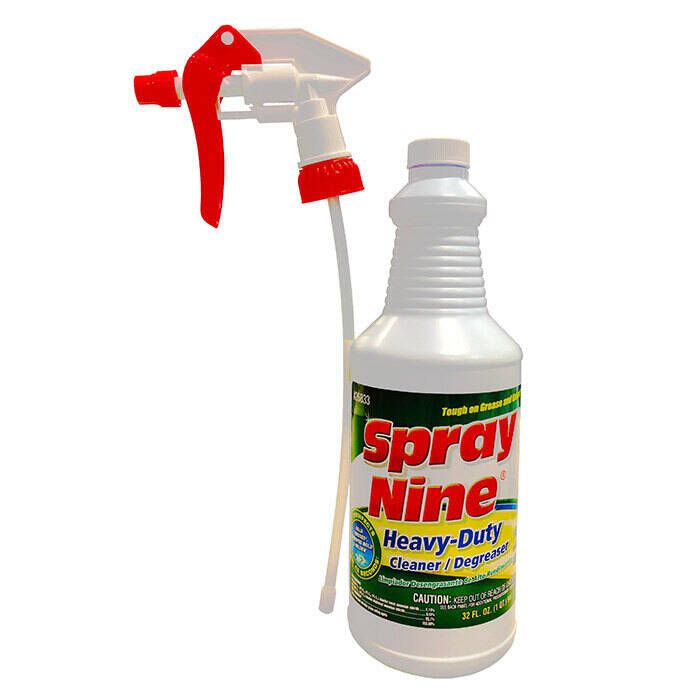 Spray Nine Original Formula
Item # 884256
Description
Spray Nine's Heavy-Duty Cleaning, Degreasing and Disinfecting action tackles the toughest grease, grime, stains, bacteria, and viruses where others fail.
Spray Nine's "Triple Threat" formula delivers professional strength performance and has been trusted by boaters, manufacturers, auto technicians and DIY'ers for over 60 years. Spray Nine does this all without the use of bleach or corrosive chemicals.
Cleans:
Formulated to break down grease, grime, oil, and stains, and reduce their ability to cling to surfaces
Lifts and traps soils for easy rinse off
Contains no bleach
Degreases:
Heavy-duty, non-solvent-based degreaser
VOC compliant in all 50 states
No petroleum or chlorinated solvents
Disinfects:
Kills 99.9% of germs in 10 seconds
Kills viruses in 30 seconds
Kills bacteria in 45 seconds
24 Kill Claims - 2X more than leading competitors
Removes:
Grease
Tar
Carbon soils
Road grime
Dirt and Mud
Soot and ash
Scuff marks
Oils
Viruses in 30 seconds
Bacteria in 45 seconds
Carpet stains
Yellow discoloration
Ink
Bug splatter
Mold and mildew
Brake dust
Much, much more
EPA and NSF Approved:
Kills viruses and bacteria including: Pandemic 2009 H1N1 Influenza A (Swine Flu), Influenza A2 Virus, Salmonella Choleraesuis, Escherichia coli (E.coli), Hepatitis B and C Viruses, Norwalk Virus, Staphylococcus aureus MRSA (HA and CA) and more!
Part Numbers for Spray Nine Original Formula