Shakespeare AnyWhere SuperHALO Cellular Booster Kit - CA-VAT-10-R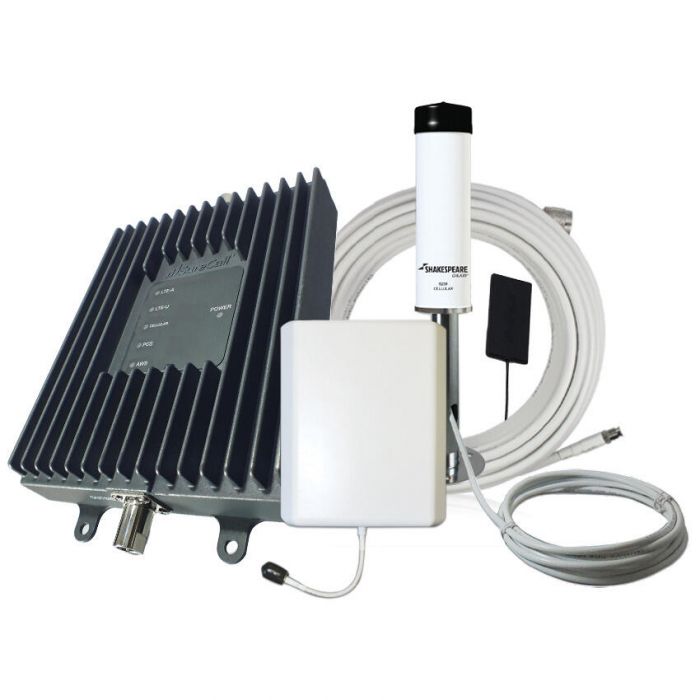 Shakespeare AnyWhere SuperHALO Cellular Booster Kit - CA-VAT-10-R
Item # 882786
Description
The Shakespeare AnyWhere SuperHALO Cellular Booster Kit is the marine-grade solution to 2G, 3G and 4G voice and data cellular reception.
Features:
5-band compatibility makes it compatible with AT&T, T-Mobile and Verizon networks
Optimized to boost cellular reception for boat, car, recreational vehicle, home or AnyWhere® else
Supports 10+ users simultaneously and an indoor antenna to direct signal where needed
Carrier specific, works in US, Canada

5-Band amplifier works with AT&T, T-Mobile and Verizon 2G, 3G, & 4G networks

Stealth technology so the uplink becomes dormant while not in use to save power
Automatic gain control (AGC) and does not overpower or interfere with cell sites
Automatic shutdown so it's energy efficient and does not interfere with cell sites
Manually adjustable gain for flexibility in antenna placement and fine-tuning system
High-quality metal construction is durable, resilient
Important FCC information [FCC ID: RSNFLEX2GO]: This is a CONSUMER device.
BEFORE USE, you MUST REGISTER THIS DEVICE with your wireless provider and have your provider's consent. Most wireless providers consent to the use of signal boosters. Some providers may not consent to the use of this device on their network. If you are unsure, contact your provider.
Specifications:
Frequency (MHz)

Uplink: 698-716, Downlink: 728-746
Uplink: 776-787, Downlink: 746-757
Uplink: 824-849, Downlink: 869-894
Uplink: 1850-1915, Downlink: 1930-1995
Uplink: 1710-1755, Downlink: 2110-2155

Input / Output Impedance 50 ohm
Maximum Gain 50 dB
VSWR <2.0
Standard Supported CDMA, WCDMA, GSM, EDGE, HSPA+, EVDO, LTE and all cellular standards
Throughput 100+ Mbps
Noise Figure 5dB
Connectors FME Male (both ends)
Power Supply / Consumption 5-15V DC, 2.1A Max. @ 12V DC
RF connectors

FME-Female Booster
N-Male antenna

Dimensions 7-7/8 in x 5 in x 1-3/16 in (20cm x 12.7cm x 8.09cm)
FCC ID (USA) RSNMOBILE5
In the Box:
50 dB - Adjustable marine booster
20' CM240-M - Marine cable with FME connectors
40' CM240-M - Marine cable with FME connectors
Galaxy 5239 - Outside omni marine antenna with mount
248W-M - Inside panel antenna with bracket
110W-M 10' Inside patch antenna cable
18' 12V DC Power supply
Part Numbers for Shakespeare AnyWhere SuperHALO Cellular Booster Kit - CA-VAT-10-R