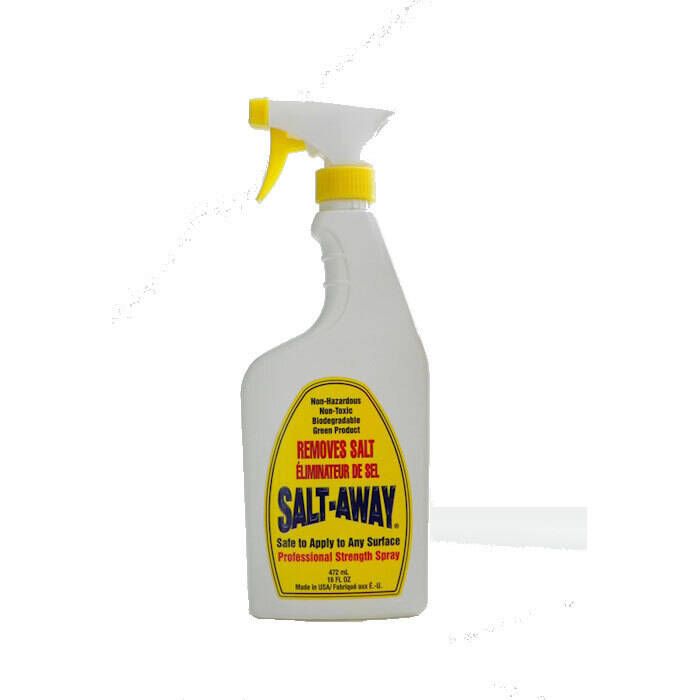 Salt-Away Professional Strength - SA16
Item # 880212
Description
Salt-Away Professional Strength is better than water. Spray it on, give it a few minutes to work, and rinse salt stains and deposits away. No scrubbing necessary in most cases. This 16 fl oz (473 ml) spray bottle contains an extra-strength Salt-Away formulation designed for use on stubborn salt accumulations. In cases where there is very heavy salt accumulation that has bonded to the underlying surface, additional applications may be necessary.
Applications: Sailboat blocks, pliers and other hand tools, hinges, sliding bolts and other hardware, canvas snaps and zippers, diving equipment, printed circuit boards, electrical switches, gauges and meters, electrical connectors, padlocks and locksets, battery posts, etc.
Salt-Away helps prevent rust and corrosion by dissolving and suspending salt deposits, then leaving a protective rust inhibiting film. Chemically formulated to rinse clean and not leave residual salt spots.
Features:
Safe for all surfaces: Metals, paint, gelcoat, nylon, vinyl, glass, wood, leather, rubber, canvas, impellers, seals and more
Regular use leaves a coating that prevents corrosion and future salt build-up
100% non-hazardous, non-toxic, bio-degradable

Safe to use near plants, fish, pets, children
Water-based, contains no petroleum components or solvents

Will not remove previously applied protective coatings, lubricants, or inhibitors such as Boeshield or WD-40
Part Numbers for Salt-Away Professional Strength - SA16