Salt-Away Combo Kit - 1 Quart of Concentrate with Mixing Valve - SA32M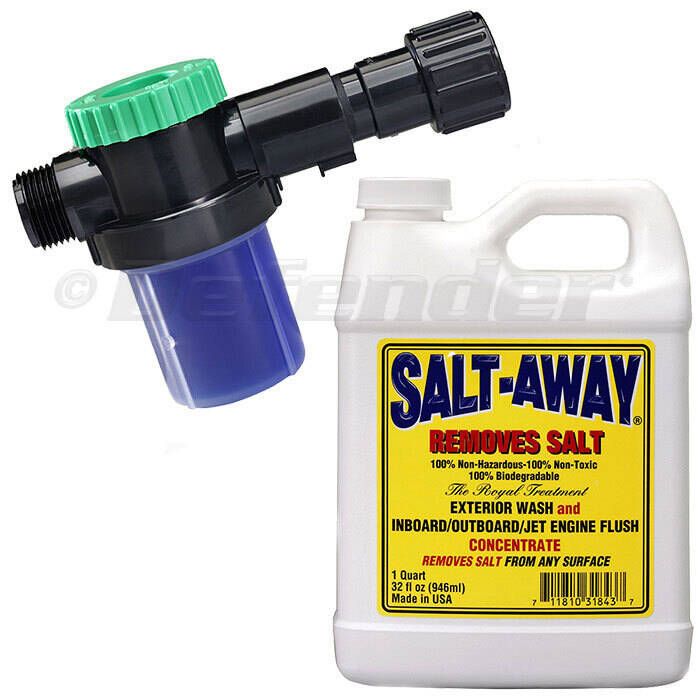 Salt-Away Combo Kit - 1 Quart of Concentrate with Mixing Valve - SA32M
Item # 880209
Description
Salt-Away is the perfect preventive maintenance product. It allows you to easily and quickly dissolve salt crystals and wash them off your boat, sails, hardware, car, motor home and any other piece of equipment prone to the corrosive effects of salt. Water alone doesn't dissolve salt, but Salt-Away will.
This kit comes with one quart of concentrate and a mixing valve with 6 oz reservoir. The valve automatically dilutes the concentrate to the right mix so you're not guessing or wasting product. One 6 oz reservoir will flush one engine and wash off a boat and trailer up to approximately 38' (11.58 m) in length.
In addition to dissolving salt crystals, Salt-Away leaves a protective film to ward off future exposure to salt. It can be used on fiberglass, paint, rubber, plastic, Eisenglass, sail covers, chrome, metals, glass, concrete and brick without damaging the surface.
This easy-to-use salt remover is water-based, non-hazardous and 100% biodegradable.
Features:
Contains properties that dissolve, remove salt crystals
Leaves protective film of high-performing corrosion inhibitors to protect surface from corroding if not rinsed off
Safe for use with fiberglass, paint, rubber, plastic, Eisenglass, sail covers, chrome, metals, glass, concrete and brick
Will not strip wax or cause streaks or spots
Mixing valve automatically dilutes concentrate to manufacturer's recommended mix; attaches to garden hose for easy spray application
Quart of concentrate makes 50 Gal of diluted product
Valve tested to withstand water pressure up to 60 psi
O-ring seals mixing valve to reservoir body
Gallon, quart concentrate refills available
Water-based, 100% non-hazardous, 100% biodegradable
Salt-Away and water mixture can be used as an immersion bath in attempts to free components "frozen" by salt buildup
Recommended Dilution Ratios instruction sheet
Part Numbers for Salt-Away Combo Kit - 1 Quart of Concentrate with Mixing Valve - SA32M