Revere 4-Person Offshore Regatta Life Raft - Valise - 45-RAF1305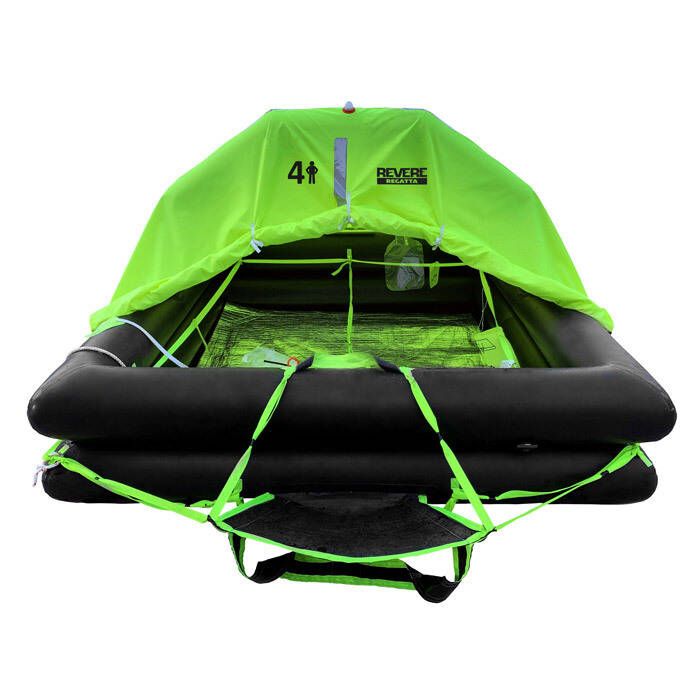 Revere 4-Person Offshore Regatta Life Raft - Valise - 45-RAF1305
Item # 879205
Description
Revere's 4 person, Regatta Life Raft is designed to protect passengers in offshore conditions where strong winds and significant waves can be met. Coupled with an ultra-compact ISO 9650-part 1 raft and independent buoyancy tubes, the Regatta Life Raft achieves the space and weight savings needed for all boating enthusiasts looking to travel offshore.
Features:
Stored in a valise
Highly visible green canopy with SOLAS Retro - reflective tape
Exterior signaling / locator light
Interior comfort light
Boarding ramp and knee boarding ladder
Insulated floor for protection from hypothermia
Internal and external lifelines for increased safety
Rainwater collection system
Observation port
Vacuum packed for protection against the elements
Light and ultra-compact ISO 9650-part 1 raft
4 Ballast bags
Independent buoyancy tubes
Large entry opening allows for easy access on board
Emergency <24 hour survivor pack complete with offshore equipment
Easy to transport with weatherproof valise

Perfect for when there is not enough room to mount a container

4 Person capacity with 5+ square feet per passenger
12-Year limited warranty valid with the following:

Required 3-year service intervals
Service performed by Revere Survival-certified service stations
Proper installation and use in accordance with Revere Owner's Manual
Warranty registration
Specifications:
Application / intended use: Offshore
Maximum capacity: 4 People
Floor space per person: 5+ sq. ft.
Raft color: Green / black
Pack type: Valise

Packed dimensions: 25.5" L x 15.75" W x 9" H
Weight: 64 lbs
In the Box:
Regatta life raft
Valise
<24 Hour survivor pack

Rescue quoit + line
Sea anchor
Paddle
Floating knife
Signal mirror
Whistle
Red hand flare
Parachute flare
Seasickness pills
Sickness bag
Signal lamp
Dry cell + bulb
Repair kit
Bailer
Sponge
Manual Air Pump
Manual
Scissors
Waterproof bag
Revere Regatta Life Raft Product Datasheet
WARNING
---
This product can expose you to chemicals which are known to the State of California to cause cancer, birth defects or other reproductive harm.
For more information go to www.p65warnings.ca.gov.
Part Numbers for Revere 4-Person Offshore Regatta Life Raft - Valise - 45-RAF1305